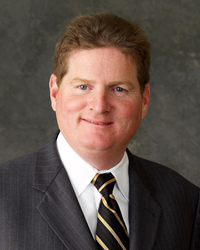 Sacramento, CA (PRWEB) October 07, 2014
Pat McClain, chief executive of Hanson McClain Advisors, and a Barron's Top 100 Investment Advisor, was named the 2014 Invest in Others Community Service Award recipient in a ceremony held in New York City on September 18th. Pat earned the honor for his work with Sacramento Food Bank and Family Services, which created a special video to commemorate the occasion, and which will receive a $20,000 donation from the Invest in Others Charitable Foundation.
Hundreds of nominations for the Community Leadership Awards are received each year and reviewed by a diverse panel of leaders in the financial services industry. Nominees were evaluated based on their level of involvement in an organization, personal contributions, and the breadth and impact of their efforts.
"The Invest in Others Community Leadership Awards showcases the selfless efforts of financial advisors to improve their communities. Since 1985, Pat McClain has worked with Sacramento Food Bank and Family Services, making a lasting impact in Sacramento and beyond. Mr. McClain and the other advisors honored this year represent the very best of the financial services industry," said Megan McAuley, Executive Director of Invest in Others.
Pat started volunteering for Sacramento Food Bank & Family Services (SFBFS) in 1985. Currently, as Chairman of the Board, he leads the agency's 15 active Board members, 45 fulltime staff and over 5,800 volunteers, who feed, clothe and help educate over 40,000 Sacramento-area residents each month. In recent years, under his leadership, SFBFS built a new 22,500 square foot Education & Technology Center, which contains a computer lab equipped with 65 computers for job skill training for adults and technology-based after school programs for underprivileged children. The Center also included a Parent Education program, a 7,600 square foot Demonstration Garden and Youth Education program. Additionally, SFBFS utilizes innovative distribution methods to bring fresh food closer to their clients.
"We try to run it like a business. Over the last five years, our organization has started to measure output and what lives we changed. The minute we started measuring outcomes with great precision, the organization got more focused and it was better for us and the clients," said Pat
About Hanson McClain
Founded by Scott T. Hanson and Patrick McClain in 1993, Hanson McClain is a Sacramento-based independent investment advisory firm with over $2 billion under administration.