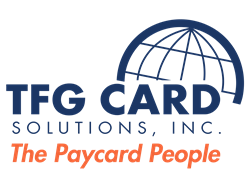 We greatly appreciate the simplicity and ease of use in our partnership with TFG.
STOCKTON, Calif. (PRWEB) October 07, 2014
TFG Card Solutions, a leading payroll prepaid card company, is partnering with DCS Facility Services, an industry leading company in facility maintenance and cleaning services. The TFG Visa® Payroll Card eliminates the need for paper checks and cuts cost by improving efficiencies and increasing convenience for employers and employees.
TFG Card Solutions partners with companies of all sizes and industries to provide payroll prepaid cards to unbanked employees. TFG's direct deposit payroll card helps businesses like DCS Facility Services save money by completely removing the costs of paper checks, as well as eliminating the high costs of check cashing services for their employees.
"Now all employees prefer to use our TFG Visa Payroll Card. We are constantly getting new employees asking about and making the switch to paperless. It gives us peace of mind knowing the money will be in their account the next day, which means less liability on us. Overall, everyone loves it and we greatly appreciate the simplicity and ease of use in our partnership with TFG." - Luke Mahoney, Director of Business Development at DCS Facility Services
"DCS Facility Services has a superb reputation for maintenance excellence, and with its successful rapid growth into nearly ten states, it was ready to go paperless. Our unified goal to greatly help the employee while also saving the company money makes for a perfect partnership," stated TFG Card Solutions President Thomas Secor.
About DCS Facility Services:
DCS Facility Services is an industry leading provider of facility maintenance and cleaning services, providing standard facility maintenance as well as specialized cleaning projects. Founded by Jim Henning in 2009, the company today operates in eight states in the western United States. Working predominately with commercial, warehouse, and supermarket facilities, the company employs over 500 individuals across its region of operations. For more information, please visit http://www.dcsfacilityservices.com.
About TFG Card Solutions, Inc.
TFG offers payroll prepaid card solutions that help businesses of all sizes increase direct deposit participation, maximizing their current direct deposit system and empowering unbanked employees. Payroll prepaid cards save companies money by cutting costs in check printing and shipping, and helps employees eliminate use of inconvenient and expensive check-cashing stores. For more information, visit http://www.tfgcard.com.
This card is issued by The Bancorp Bank pursuant to a license from Visa U.S.A. Inc. The Bancorp Bank; Member FDIC. Card may be used everywhere Visa debit cards are accepted.