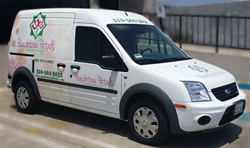 Los Angeles, CA (PRWEB) October 07, 2014
Peachtree Petals, a recognized leading West Los Angeles florist specializing in premium floral arrangements and floral services, announces its' Deal of The Week Specials. The florist makes the announcement in effort to expand its customer base, promotion of its popular arrangements and increase online sales in the Los Angeles market. Peachtree Petals pursues to be the best choice in high-quality and custom-designed floral arrangements in the West Los Angeles and surrounding Los Angeles metro-city areas.
The Deal of The Week is advertised as a special discounted floral arrangement each week, which is highlighted on the home page of the Peachtree Petals' website. The Peachtree Petals deal of the week is not limited to only placing the order online, but also customers can place their order via phone. All the shopper has to do is simply click on the advertisement and proceed to place their order. Customers can also contact the florist and speak directly to an experienced designer for any specific instructions regarding the arrangement.
Peachtree Petals' current Deal of The Week is the Tropics Appeal Bouquet. This delightful bouquet is made up of beautiful hand tie bouquet of mini callas, green mini hydrangeas, white hydrangeas, pink spray roses, orange roses, safari sunset, and stock. This tropical mix is nested withing a square cube with green leaves. The Tropics Appeal Bouquet is $64.97, which is a discount of 25%. This is a great buy, which can be delivered or picked up at the West Los Angeles floral gift shop location. The florists' operating hours are Monday through Friday from 8:00am to 5:00pm and Saturdays from 8:00am to 1:00pm.
Along with this initiative in West Los Angeles, Peachtree Petals engages in the same heavy, continuous e-marketing for its Atlanta location as well. Both location offer the Deal of The Week Special, allowing all of its customers to enjoy the stunning arrangements in their respective cities. Shoppers also will be able to visit both sources and find other amazing deals from Peachtree Petals. A business strategy of discounts and deals is essential to customer satisfaction, including variety and options. From a Hollywood floral delivery to a Redondo Beach floral delivery, Peachtree Petals offers same-day delivery of its Deal of The Week Special and all its other beautiful assortment of floral bouquets.
Peachtree Petals is a well-known leader of superior floral arrangements and a recognized Master Florist nationwide. From birthday bouquets to congratulation flowers, Peachtree Petals is able to meet all of your floral needs. Based in Atlanta, Georgia, Peachtree Petals services a growing list of clients, including company floral subscriptions and weekly floral services. The company offers a simple approach to the floral industry, most notably, same-day flower delivery of all their floral arrangements in the West Los Angeles and the surrounding Los Angeles metro-city areas.