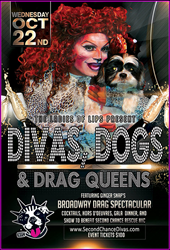 Lips is proud to give back to the community by supporting worthy organizations such as Second Chance Rescue, which helps find loving homes for animals in need.
NEW YORK (PRWEB) October 07, 2014
Lips New York City, the ultimate in drag dining since 1996, will present "Divas, Dogs & Drag Queens," a dragalicious gala to benefit Second Chance Rescue NYC, a non-profit organization that helps homeless, abused, neglected and abandoned animals in the New York City area. The glam event will take place at Lips located at 227 East 56th Street in New York City on Wed., Oct. 22 at 7:30 p.m.
The fabulous "Divas, Dogs & Drag Queens" benefit at Lips will start with cocktails, champagne, hors d'oeuvres and a silent auction, followed by a gala dinner and an exclusive show titled as "Ginger Snap's Broadway Drag Spectacular" featuring the Ladies of Lips.
"Lips is proud to give back to the community by supporting worthy organizations such as Second Chance Rescue, which helps find loving homes for animals in need," said Edward Lafaye, co-owner of Lips. "Each of our divas is ready to bring the house down for this amazing cause in true Lips fashion, which is about having great food, fun and entertainment."
Second Chance Rescue was formed in 2009 on the firm belief that all animals deserve to be loved and cared for, and no animal should ever be abused, neglected or homeless. Second Chance is a 100% not for profit and relies solely on donations to provide emergency veterinary care and rehabilitation for animals, as well as to facilitate the adoption/re-homing of animals in new loving homes.
People love to have a good time and Lips delivers that and much more with great food, a talented cast of top female impersonators and interactive shows in a whimsical setting. From the moment anyone enters Lips, they are transformed into a different world with a kaleidoscope of bejeweled mirrors, oversized crystal chandeliers, sleek marble floors, pink leopard-tufted walls and rich velvet curtains. The highlight of the experience at Lips is the talented cast of leading drag performers who not only entertain, but also interact with every customer as table hosts and servers.
Guests are always satisfied with Lips delicious food options from tasty appetizers and salads to hearty main entrees and sweet desserts. Its delectable menu features an assortment of favorite entrees named after famous drag queens. Lips offers a full bar with a knack for thirst-quenching specialty drinks, also named after leading ladies of drag.
There's always a party at Lips, even on Sundays with its world famous Broadway Brunch in NYC and Gospel Brunch in other locations, as the quintessential destination for birthdays, bachelorette parties, anniversaries, graduations and even divorces. Celebration guests get to enjoy time on the stage and receive a keepsake photo with the drag performers. Lips is available for private events such as weddings and corporate functions.
Tickets for "Divas, Dogs & Drag Queens" at Lips are available at http://www.SecondChanceDivas.com or by calling (212) 675-7710. Gala tickets are $100, and VIP tables for 8 are available for $2,000, with all funds benefiting Second Chance Rescue.
About Lips
Lips is the ultimate in drag dining with show palaces in Atlanta, Fort Lauderdale, New York City and San Diego. Its unique brand of entertainment with Las Vegas style drag shows paired with delicious food and signature cocktails in a whimsical, fairytale setting is a winning combination. Lips draws an eclectic crowd and has been enjoyed by celebrities like Dennis Rodman, Cyndi Lauper and others. Plus, it has enjoyed international media attention and been the setting for popular films and TV shows over the years. The Lips concept began in New York City in 1996 and now almost two decades later it continues to grow thanks to the best fans in the world. For more information about Lips, please visit lipsusa.com.
About Second Chance Rescue
Second Chance is a 100% not for profit that relies solely on donations from the public. Dogs and cats are rescued from the streets, as well as from "death row" at municipal shelters (predominantly NYC Animal Care & Control) around New York City. Prior to their rescue by Second Chance, most of our animals had been abandoned, abused or neglected, and a large number have serious medical issues that require immediate, emergency veterinary care. Second chance protects and ensures the long-term well-being of these rescued animals by placing them in foster homes or private boarding facilities, where they are rehabilitated and cared for until a permanent home can be found. For more information, visit nycsecondchancerescue.org.