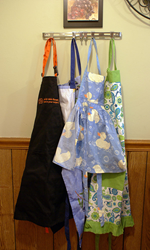 Lima, Ohio (PRWEB) October 07, 2014
Berndes Cookware known for its "Quality Makes a Different" gourmet cookware has a versatile rack that is a hidden gem. This gadget rack is made of 18/10 Stainless Steel and is perfect for any DIY project but originally intended for displaying your favorite cooking utensils.
This sleek and slender rack measures 15.75 inches in length by .75 of an inch in width and .875 of an inch in depth. The rack includes 6 removable sliding hooks which allow a smooth and easy access for any storage and organizational option. Also includes two mounting screws.
Many DIY organizational projects can be accomplished around the house such as:
In the Kitchen: Can be used for displaying utensils, oven mitts, hot pads, aprons, keys or simply hanging your fresh herbs.
Child's Room: Perfect for displaying your daughters excessive amount of head bands, bows, necklaces, costume jewelry or dress up clothes.
In the Bedroom: Easily display and organize ties, belts, small purses, clutches, sunglasses, scarfs, sashes, necklaces, bracelets, watches, and your bigger rings.
There are so many ways to re-invent household products and the Berndes Display Rack is perfect for many DIY projects.
About Berndes
Berndes has developed produced and distributed cookware since 1921 and is the largest pan manufacturer in Germany, as well as the world-marketing leader in nonstick coating cookware made of cast aluminum. The high quality, award-winning range made of cast aluminum, spun aluminum and stainless steel is exported worldwide and has been distributed through qualified channels for decades.
With a marketing strategy that focuses on people with an affinity for cooking and appeals to the emotions, Berndes is set for success. As has always been the case, production is carried out at the company headquarters in Arnsberg, Germany. These processes only use materials that do not affect the environment, resources or health. The in-house test laboratory conducts continual quality controls accompanying production. Neutral test institutions both attest the company's high quality standards repeatedly domestically and abroad.