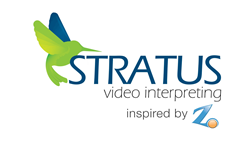 Events such as the Bank of America Chicago Marathon call for fast and direct communication between athletes and healthcare practitioners.
Clearwater, FL (PRWEB) October 07, 2014
In an effort to continue its mission of ensuring equal language access for all, Stratus Video Interpreting has announced it is joining the 2014 Bank of America Chicago Marathon as a sponsor. The company will assist the event's approximately 45,000 participants, representing more than 132 countries by providing its video remote interpreting (VRI) technology via eight iPads on stands and unlimited interpreting minutes in the marathon's medical tent.
To put the potential for injury during a marathon in perspective, at 800 to 2,000 foot strikes per mile, a 150-pound runner exerts approximately 150 tons of force per foot per mile, which adds up to 3,930 tons of force per foot over the course of a marathon. With these factors in mind, it is evident why 35 percent of first-time marathoners are unable to complete the race due to injury. (1) With studies finding such a high likelihood for injury during race events, Stratus CEO Sean Belanger maintains that the company is striving to offset those odds by connecting injured limited English proficiency (LEP) runners with healthcare practitioners via its cloud-based network of certified spoken language interpreters with the ability to translate over 175 different spoken and sign languages.
"Events such as the Bank of America Chicago Marathon call for fast and direct communication between athletes and healthcare practitioners—this is one more step in Stratus' goal of assisting healthcare facilities in a burgeoning endeavor to create standardization within the interpreting industry by making it readily accessible to all," said Belanger.
According to Belanger, the varied nationalities of the participants in the marathon offers a representation of the nation's growing diversity that has created a market in which interpreting today is now a $2 billion industry—one in which VRI is quickly becoming the modern technology rapidly replacing $1 billion of the market from face-to-face and OPI interpreting. As such, the company has taken steps to make effective interpreting services widely available to meet the rapidly growing demand for VRI. However, the ever-increasing demand has forced healthcare facilities to spend up to $700 million on language access services annually, per Stratus President David Fetterolf. In contrast, Stratus' interpreting services cost about $1.50 per minute, and saved one hospital (in a 33-hospital system) over $6,500 in just three weeks (projecting to $214,500 for all hospitals in the system if their VRI usage were the same/similar), presenting an economical alternative or addition to current interpreting services for hospital systems nationwide.
In addition to providing the company's services as vendor partner during the marathon, Stratus officials will be attending the physicians' dinner before the race on Wednesday, October 8, to explain the Stratus technology. The dinner is hosted to highlight all new medical services at the race that year. Stratus will also have a booth at the Abbott Health and Fitness Expo on October 10–11, and General Manager William Cobb will be participating in the marathon on October 12.
Stratus specializes in the medical field and court interpreting, but the company's technology is applicable to every industry. Stratus employs experienced, highly-qualified, certified interpreters who can either be used to supplement an existing interpreting infrastructure or to replace live and over-the-phone interpreters altogether with their VRI system.
For more information about Stratus and its services, visit http://www.stratusvideo.com.
About Stratus Video Interpreting:
Stratus Video Interpreting provides on-demand interpreter services by using technology to connect clients with interpreters in over 175 spoken and signed languages in less than 30 seconds. Stratus' cloud-based video solution delivers an array of unique features to virtually any Internet-enabled PC, Mac, smartphone or tablet. Stratus clients use the technology to connect with their own staff interpreters, as well as with Stratus interpreters, who have years of healthcare and courtroom experience and hold multiple certifications. With Stratus, state-of-the-art video remote interpreting is made available with virtually no capital investment. Stratus averages 65,000 video calls a day, up from 40,000 in mid-2013. Stratus Video is the sister company of The Z® (CSDVRS, LLC, dba ZVRS), which was established in 2006 and developed by and for deaf and hard of hearing individuals, setting the industry standard as the nation's premier Video Relay Service Provider and the first VRS Provider to receive a 5-Year certification from the FCC. In 2014, Stratus was recognized as one of the fastest-growing privately held companies, ranking #3,827 on Inc. magazine's Inc. 5000 list. For more information, visit http://www.stratusvideo.com.
1. Wagner, Mark D. "Stay Injury-free While Training and Running Your First Marathon." Active.com. N.p., n.d. Web. 29 Sept. 2014. active.com/articles/stay-injury-free-while-training-and-running-your-first-marathon.