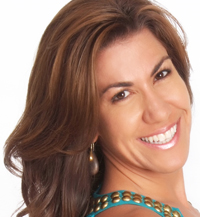 I've developed the Ultimate Sales Bootcamp to give heart-centered entrepreneurs completely up-to-date sales techniques that are working NOW.
San Diego, CA (PRWEB) October 07, 2014
Queen of Sales Conversion Lisa Sasevich is offering a brand new event, The Ultimate Sales Bootcamp, October 16-18, to teach heart-centered entrepreneurs to get their blessing out into the world, get paid handsomely, and have fun while they do it! She recently announced she is offering complimentary backstage passes to the event, which allow people to "attend" via livestream, watching live footage of some of the trainings.
Sasevich created a video about the backstage pass offer, which people can view here: http://youtu.be/fA-xvY1hD_c
"You're going to be able to participate from behind the scenes, and see a lot of what is going on onstage and in the audience," Sasevich said. "If you're going out there and doing all these activities to get new leads, but you don't have the sales conversion machine in place to turn interested prospects into invested clients on the spot, you'll definitely want to join us for this complimentary backstage pass."
By signing up for a complimentary Backstage Pass, entrepreneurs will be able to get access to several segments Sasevich carefully selected specifically for Backstage Pass holders.
Heart-centered entrepreneurs who sign up for a Backstage Pass to the Ultimate Sales Bootcamp learn:

What to do NOW to build their business on a solid foundation so they're set up for lasting success.
How to select the words to say what they do and to powerfully communicate the value they provide so their ideal prospects understand how unique and special their work is.
A proven process for determining how to package their expertise and gifts in a way that makes people hungry to invest with them.
How to add proven income streams to their business so they experience consistent cash flow while serving their clients at the highest possible level.
A new way to look at sales that gives them the freedom and confidence to charge what they're worth.
And so much more.
"I've developed the Ultimate Sales Bootcamp to give heart-centered entrepreneurs completely up-to-date sales techniques that are working NOW," Sasevich said. "And the Backstage Pass gives you a taste of it. SO if you can't make it live, I highly recommend joining us through this fabulous option."
Sasevich is offering access to the Backstage Pass only for a limited time, so interested entrepreneurs can sign up here: http://ultimatesalesevent.com/backstage/
Recently honored as one of America's Top Women Mentoring Leaders by WoW magazine, Lisa Sasevich, "The Queen of Sales Conversion," teaches experts who are making a difference how to get their message out and enjoy massive results, without being "salesy."
Recognized sales expert by Success Magazine, and as one of America's fastest growing independently owned companies for the second consecutive year by Inc. Magazine, Lisa delivers high-impact sales-closing strategies for turbo-charging entrepreneurs and small business owners to great profits. According to best-selling author Brian Tracy, "Lisa Sasevich is one of the greatest discoveries in America today!"
After 25 years of winning top sales awards and training senior executives at companies like Pfizer and Hewlett-Packard, she left corporate America and put her skills to test as an entrepreneur. And in just a few short years, Lisa created a multi-million-dollar home-based business with 2 toddlers in tow. Lisa is the undisputed expert on how to make BIG money doing what you love.
For more information about Sasevich and The Invisible Close, visit http://www.LisaSasevich.com