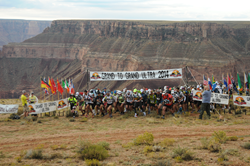 Please follow the build up to the 2015 event on Facebook https://www.facebook.com/g2gultra.
KANAB, Utah (PRWEB) October 06, 2014
Ultra Challenge America LLC is pleased to announce that the third Grand to Grand Ultra took place from September 21 through September 27, 2014. The winner, Michele Graglia, age 31, of Italy, finished with a total cumulative time of 31 hours, 25 minutes and 3 seconds. The top woman, Chantal van der Geest, age 37, finished in third place overall with a total cumulative time of 36 hours, 53 minutes, just 20 minutes behind second place finisher, Ken Letterle from the USA. This unique event, the only self-supported stage footrace in America, takes place over 6-stages in 7 days. It is held annually in the states of Utah and Arizona in the USA, covering a cumulative distance of approximately 170 miles (273 km). The race is open to runners and hikers, with cut off times applicable to each checkpoint.
The 170 mile course route begins at the awe-inspiring north rim of the Grand Canyon, one of the Seven Natural Wonders of the World, and finishes on the summit of the Grand Staircase, one of the world's most iconic geological formations. The course takes participants through a desert landscape of sand dunes, red rock canyons, buttes, mesas, slot canyons and hoodoos. Participants experience the remotest part of continental America in the way of the earliest settlers, Navajo and Paiute Indian tribes.
The field of participants from all over the world came together for this challenging event, assuming the responsibility of carrying their own backpacks containing food, sleeping bag, mat and other mandatory equipment for the week. One hundred four (104) entrants from 22 countries started, while 79 finished. Despite challenging weather during the race, which forced organizers to change the last few miles of the course, wonderful stories of resilience, mental strength and generosity abounded as competitors fought the terrain and elements to complete the challenge of one of the world's toughest footraces.
Registration for G2G 2015 is now open. Advance registration is required and early registration is strongly recommended for this event given the quotas for different countries. Please visit the event website at http://www.g2gultra.com for more information and complete registration details.
Please follow the build up to the 2015 event on Facebook https://www.facebook.com/g2gultra.
For information regarding registration, media, sponsorship, or other event-related questions, please contact Colin Geddes at info(at)g2gultra(dot)com.