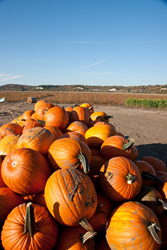 Jefferson City, MO (PRWEB) October 10, 2014
The fall harvest season is when farmers see the pay-off to their months of hard work. It's also the time when children (and kids-at-heart) enjoy that same autumn bounty – with a side of fun and games – at apple orchards and pumpkin patches around the Show-Me State. It's often the only opportunity non-farmers have to get back in touch with the land.
"It used to be common practice that families would visit grandma and grandpa's farm on the weekends, but most people do not have that connection anymore," says Carolyn Raasch, owner of Carolyn's Country Cousins Pumpkin Patch in Liberty.
Missouri is blessed with a great growing season and an abundance of amazing pumpkin patches with enough produce to satisfy everyone's taste for Halloween Jack O'Lanterns and Thanksgiving pumpkin pie.
"The perfect pumpkin looks different to everyone and people enjoy fulfilling their vision of their perfect pumpkin," Raasch says. "The majority of our customers enjoy taking the tractor hay ride out to the field to pick their own pumpkin, but there is still a small percentage that would rather select a pre-picked pumpkin."
Picking out the ideal pumpkin may not hold the attention of the younger visitors very long. But pumpkin patches are more than big gardens these days – they're full-blown attractions with offerings to keep the busiest brood occupied.
For example, Carolyn's Country Cousins Pumpkin Patch offers u-pick pumpkins, wagon rides, snacks, Little Bud's Railroad and the Liberty Corn Maze.
One of the state's oldest pumpkin patches, Rombach's Farm in Chesterfield, includes pony rides, a spook house, "Seaweed the Dragon," and barbecue.
It's always a fun trip to Gunter Farms Pumpkin Patch and Maze in Conway, which features a corn maze, a giant sling shot and the "Moo Mamas" pregnancy center.
Carry home a great pumpkin from a trip to Beggs Family Farm in Sikeston, after spending a fun day with farm animals, hillbilly pig races, a 10-acre corn maze and concessions.
Check out the giant slingshot at Uncle Buck's Pumpkin Patch in Dixon, ride the kids' train and enjoy the petting zoo.
Other pumpkin patches offer additional attractions such as haunted houses, spooky and not-spooky hayrides, hay mazes designed especially for kids, face painting, super slides and bounce houses, games like corn hole and hillbilly golf, water duck races, there's even ziplines and paintball.
Admission to most of the farms is free, but associated activities and attractions are subject to an additional fee.
Not all pumpkin patches operate the same way: some offer only choice pre-picked pumpkins at a store or stand, some offer a trip out to the patch itself to select from fruit already picked but left in the patch, some let visitors pick from the vine. To experience choosing a pumpkin in the field and cutting it from the vine, be sure to call ahead to make sure that option is available.
The other favorite Missouri fall fruit makes for an awesome destination, too: apple orchards are loaded this time of year with all the favorite varieties.
For fans of u-pick, there are a few orchards that let visitors do their own harvesting. Check out Huffstutter Orchards in New Franklin (they also have pumpkins); Sunshine Valley Farm in Rogersville; and Herman Farm Orchard in St. Charles. In Canton, Blue Heron Orchard is u-pick and certified organic.
Not picky about doing the picking? Stock up on those famous Waverly apples at Peters Orchard and Market and Schreiman Orchards. In mid-state, visit Red Bird Hill Apple Orchard in Fulton; down south, check out Diebold Orchards in Benton.
Crops can be fickle, so be sure to call ahead to make sure they have plenty of produce on hand for planned visits.
There are many orchards, farms and patches across Missouri waiting to be explored. Explore VisitMO.com and blog.visitmo.com to learn more about how you can get out and enjoy the show.
About the Missouri Division of Tourism
The Missouri Division of Tourism (MDT) is the official tourism office for the state of Missouri dedicated to marketing Missouri as a premier travel destination. Established in 1967, the Missouri Division of Tourism has worked hard to develop the tourism industry in Missouri to what it is today, a $14 billion industry supporting more than 285,000 jobs. For more information on Missouri tourism, go to http://www.VisitMO.com.