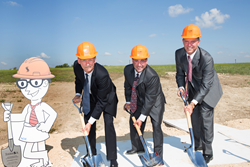 "The Round Rock community will be greatly enhanced... We welcome the ThermaSol family and thank Mitch Altman for selecting the state of Texas, and namely, Round Rock as their new home," said Mayor Alan McGraw
Austin, Texas (PRWEB) October 07, 2014
ThermaSol®, the industry leader in steam shower products and technology for more than 55 years, and The Round Rock Chamber of Commerce & Economic Development Partnership announced that both organizations were honored with the 2014 Community Economic Development Award (CEDA) for the ThermaSol Steam Bath Systems headquarters relocation and business park development project. CEDA, which is awarded by the Texas Economic Development Council (TEDC), recognizes "excellence and exceptional contributions of Texas communities in economic development." The chamber was included in the 100,001 – 250,000 population category and received its award at TEDC's annual banquet on October 2, 2014 in Houston. Mitch Altman, CEO of ThermaSol along with other members of the Round Rock Chamber and Economic Development team were present to receive the award.
"I could not be more proud of this development and all of the people who have worked so hard to make it happen," said Mayor Alan McGraw. "The Round Rock community will be greatly enhanced and we hope that this entire development will stand as a testament to our thriving business community. We welcome the ThermaSol family and thank Mitch Altman for selecting the state of Texas, and namely, Round Rock as their new home."
ThermaSol purchased 27 acres of land in the City of Round Rock and is developing it into an upscale business park where its new headquarters will be housed. The company had its ceremonial groundbreaking on one of the six planned buildings in the park, each being 30,000 to 50,000 square feet, on September 29th. The groundbreaking ceremony was attended by Mayor Alan McGraw, Ben White and Kyle Shulz of the Momentum Group, the Economic Development arm of the Round Rock Chamber of Commerce, Steve Norwood, City Manager, and Brad Wiseman, Director of The Planning and Development Department, City of Round Rock, as well as Mitch Altman, CEO and Jari Ristola, President of ThermaSol.
"Of course we were excited about our relocation and development project, but this award is the cherry on top," ThermaSol CEO Mitch Altman said. "The city and chamber have been great development partners and for us to receive a state award really solidifies their economic development efforts. Round Rock works hard to be business-friendly, and it shows."
TEDC, which is now the largest state economic development association in the nation, received applications from 23 member communities in five population categories. The CEDA committee judged nominees on five criteria: innovativeness, transferability, community commitment and leverage, measured objectives, and secondary benefits.
The company's new world headquarters will open in 2015 with a 37,000-square-foot manufacturing facility covering nearly 3.5 acres. They will employ a minimum of 45 people including factory personnel and the upper management team, but could create as many as 60 new jobs in the community. The project totals more than $3.5 million in capital investment and is being developed by the Altman Development Group.