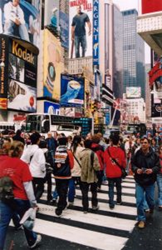 Pedestrians accounted for 52 percent of traffic fatalities from 2005-2009, driver inattention was cited in about 36 percent of fatal pedestrian accidents and 27 percent of fatal pedestrian collisions involved the driver's failure to yield, statistics show
New York, N.Y (PRWEB) October 09, 2014
A 55-year-old woman was killed in a pedestrian accident the night of Sept. 10 in Elmhurst, Queens, after she was struck by an MTA bus while crossing the street. According to a Sept. 11 news report in the Queens Courier, the incident occurred at the intersection of Astoria Boulevard and 80th Street when a Q47 bus making a right turn on to Astoria Boulevard, hit the pedestrian. The woman was transported to Elmhurst Hospital where she was pronounced dead, the article stated.
According to the New York City Department of Transportation, the city's pedestrian accident fatality rate is about a quarter of the national rate and less than half the rate for any of the next 10 largest U.S. cities. The DOT's website states that pedestrians are 10 times more likely to die in a collision than a motor vehicle occupant in the event of a crash. While pedestrians accounted for 52 percent of traffic fatalities from 2005 to 2009, driver inattention was cited in about 36 percent of fatal pedestrian accidents and 27 percent of fatal pedestrian collisions involved the driver's failure to yield, statistics show.
There is no question that pedestrians face a much higher risk of suffering catastrophic or fatal personal injuries than drivers, said New York personal injury lawyer Kenneth A. Wilhelm. "Pedestrians do not have any protection at all in these types of collisions. This means that they face the risk of serious injury or even death."
Street intersections that are crowded and busy are particularly dangerous for pedestrians, Wilhelm said. "These are the city intersections where drivers of large vehicles such as buses may miss seeing pedestrians. All motorists are required under the law to stop and yield the right of way to pedestrians in crosswalks. However, this is one of the most common laws many New York City drivers violate. The consequences of such a violation of course can be devastating for walkers."
Wilhelm offers a number of tips to increase pedestrian safety at intersections:
1.Cross streets using traffic signals where available and crosswalks.
2. Always look left, then right and left again before crossing.
3. When you are at an intersection make eye contact with drivers to ensure that they've seen you.
4. Wear bright colors or reflective clothing for better visibility. Carry a flashlight if you are walking in the dark or in poorly lit areas.
5. Avoid walking when possible if you have consumed alcohol or medication.
6. Do not use your cell phone or text while crossing the street. Do not wear earphones or headphones.
7. Children should be supervised when they cross the street.
Contacting the Law Offices of Kenneth A. Wilhelm
For questions or comments please contact the Law Offices of Kenneth A. Wilhelm. Our New York personal injury attorneys can help victims and families with pedestrian accident cases. We can also help with personal injury cases in New Jersey, Connecticut, Pennsylvania, or Florida.
The TOLL FREE phone numbers for us are:
1-800-WORK-4-YOU (1-800-967-5496),1-800-RADIO-LAW, 1-888-WYPADEK, OR 1-800-LAS-LEYES
Please visit us at: http://www.WORK4YOULAW.com
The Law Offices of Kenneth A. Wilhelm 
445 Park Ave, 9th Floor 
New York, NY 10022 
(212) 545-7373