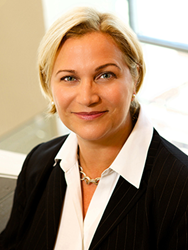 Nashville, Tenn. (PRWEB) October 06, 2014
Bass Berry & Sims is pleased to announce the addition of veteran healthcare prosecutor Lisa S. Rivera, former Assistant U.S. Attorney with the United States Attorney's Office for the Middle District of Tennessee, as a member in the firm's Litigation and Healthcare Fraud practice group. With more than 20 years of combined legal experience including commercial litigation, criminal prosecution and pursuing healthcare False Claims Act cases, Rivera's practice will focus on advising healthcare providers, pharmaceutical manufacturers, medical device companies and other clients on matters related to both civil and criminal healthcare fraud and abuse, as well as government investigations and enforcement.
For the last 13 years, Rivera served in Nashville as an Assistant U.S. Attorney in both criminal and civil divisions, with a focus on healthcare fraud during the last 10 years. She served as the civil and criminal Healthcare Fraud Coordinator for the Middle District of Tennessee and was responsible for the intake, review and coordination of all criminal and civil healthcare fraud investigations and cases in the U.S. Attorney's Office; and she also carried her own cases, investigating, prosecuting and resolving civil and criminal healthcare matters. Rivera has extensive experience in litigation and jury trials, as well as the settlement of healthcare cases resulting in payments of millions to the government. She has also investigated government contract cases, and was successful in a 7-month jury trial involving government loan fraud, public corruption, bribery and kickbacks.
"We are excited to welcome Lisa to our team of healthcare fraud attorneys. Her extensive experience handling civil and criminal matters on behalf of the U.S. government will provide valuable insight for our clients," said Brian D. Roark, head of the firm's Healthcare Fraud Task Force. "Lisa joins an elite group of partners, including John Kelly and Matt Curley, as former leaders in healthcare fraud for the U.S. government."
John Kelly, managing partner of the firm's office in Washington, D.C., previously worked with the Department of Justice in a number of leadership positions, including Assistant Chief for Healthcare Fraud in the Criminal Division and Fraud Section. He also was the lead prosecutor for the Medicare Fraud Strike Force in Los Angeles and the Chief of Staff and Deputy Director of the Executive Office for U.S. Attorneys. Matt Curley, a member in the firm's Nashville office, was previously an Assistant U.S. Attorney in the Middle District of Tennessee where he served as Civil Chief and coordinated civil enforcement efforts in healthcare fraud and abuse actions.
"Lisa's extensive experience enforcing healthcare compliance will greatly benefit our clients as she advises and defends their businesses with a comprehensive perspective of the regulatory landscape and legal process," said Todd Rolapp, managing partner of Bass, Berry & Sims. "We look forward to her joining our team focused on delivering client-centered results."
As a highly decorated federal prosecutor, Rivera earned several awards from the Department of Justice, the Executive Office of United States Attorneys and other federal law agencies for litigation including: Department of Justice Director's Award for Superior Performance as an Assistant U.S. Attorney; Award for Excellence from the U.S. President's Council on Integrity and Efficiency; Excellence for Outstanding Partnership Award from the Federal Executive Board (CMS Atlanta); Health and Human Services Office of Inspector General Integrity Award in Healthcare Fraud; and Special Achievement Award from the Atlanta Region Council of Inspectors General.
In addition to her role with the U.S. Attorney's Office of the Middle District of Tennessee, Rivera served on the Medicaid Fraud Control Unit with the Tennessee Bureau of Investigation, as Assistant U.S. Attorney in the District of Puerto Rico, and as Assistant State Attorney in Broward County, Florida. She also served as a clerk to the Honorable James C. Paine in the United States District Court for the Southern District of Florida and had a private litigation practice.
About Bass, Berry & Sims PLC
With more than 200 attorneys representing numerous publicly traded companies and Fortune 500 businesses, Bass, Berry & Sims PLC has been involved in some of the largest and most significant business transactions and litigation matters in the country. For more information, visit http://www.bassberry.com.