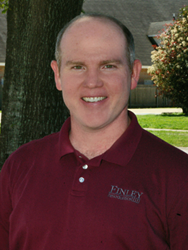 Lafayette, LA (PRWEB) October 06, 2014
Dr. James M. Finley, a Lafayette, LA periodontist, is accepting new patients in consideration of Dental Hygiene Month this October. The easiest and most effective way to improve periodontal, or gum, health is to visit a periodontist regularly and follow proven protocols for success. Dr. Finley understands that if a large number of problems exist, it can be frustrating and overwhelming for patients. He is happy to work out individualized treatment plans in order to help restore good periodontal health and save patients' teeth. One of the procedures Dr. Finley performs is the LANAP® protocol, which is a laser gum surgery. Unlike other types of gum surgery, the LANAP® protocol is minimally invasive and involves very little pain and no stitches. This gentle procedure treats periodontal disease and promotes healing.
Many local residents put off visiting a Lafayette, LA periodontist because they feel overwhelmed by dental problems or dental anxiety. These feelings are natural, but Dr. Finley reminds people that periodontal health is an important part of proper oral hygiene. Good periodontists help patients establish manageable treatment plans and keep problems from escalating. Periodontal disease is deceptive because it begins as a painless problem. Those who seek treatment early decrease the amount of work necessary to address the disease and increase the success rate. Dr. Finley has experience helping patients at all levels of periodontal disease, and he uses techniques such as laser gum surgery to successfully treat even severe cases. However, early treatment is still the best way to address any problems in the gums.
The LANAP® protocol is an FDA cleared laser treatment for periodontal disease. Using the PerioLase® MVP-7™ laser, Dr. Finley reaches diseased tissue under the gum line without the need for cutting or stitches. Laser gum surgery treats the disease and stimulates healthy tissue to grow back into its proper place. This technique allows gums and even bone to heal, removing the pockets of infection and filling in bone loss.
Those who would like more information about either the LANAP® protocol or about visiting a Lafayette, LA periodontist may go to Dr. Finley's website at http://www.finleyperio.com or contact his office by phone at (337) 347-7367. Dr. Finley wants patients to be as comfortable and informed as possible. He encourages questions and believes in empowering every patient to make good decisions regarding oral health.
About the Doctor
Finley Periodontics is a periodontal practice offering personalized dental care for patients in Lafayette, LA. Dr. James M. Finley received his D.M.D from the University Of Mississippi School Of Dentistry and his certificate in Periodontics from Louisiana State University School of Dentistry. He went on to earn his M.S. in oral biology from Louisiana State University while serving as a full time assistant professor. Dr. Finley is part of one percent of dental professionals providing the LANAP® FDA cleared laser procedure for gum disease and periodontal treatment. To learn more about Finley Periodontics and their dental services, visit their website at http://www.finleyperio.com and call (337) 504-7263.