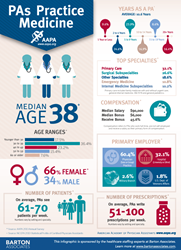 "With millions of new patients entering an already overburdened healthcare system in 2014, the verdict is in: America needs PAs," said AAPA President John McGinnity, MS, PA-C
Alexandria, VA (PRWEB) October 07, 2014
As the American Academy of Physician Assistants recognizes National PA Week (Oct. 6 – 12), America's more than 100,000 PAs have plenty of reasons to celebrate.
New research confirms that it has never been a better time to practice medicine as a PA or become a PA.
Each year, more than 6,000 new PAs enter the workforce, and new data from the National Commission on Certification of Physician Assistants (NCCPA) reports unprecedented levels of demand for PAs upon graduation, with 78 percent of recent graduates receiving multiple job offers and 52 percent entertaining three or more.
"With millions of new patients entering an already overburdened healthcare system in 2014, the verdict is in: America needs PAs," said AAPA President John McGinnity, MS, PA-C, DFAAPA. "The PA profession, with its hallmark of providing high-quality, cost-effective and patient-centered care, has secured a well-deserved foothold in the highly complex and competitive healthcare marketplace."
The profession's well-regarded position is echoed by numerous reputable sources beyond just professional organizations within the healthcare industry. In recent coverage, Forbes, U.S. News & World Report, and The New York Times touted the profession as one of the best healthcare jobs and PAs as one of the single-most, sought-after healthcare providers in the country.
Demand for PAs and nurse practitioners rose by more than 300 percent in the last three years, according to national healthcare search firm Merritt Hawkins. State lawmakers have also embraced the value of PAs. A new report from the National Governors Association encourages all states to allow PAs to practice to the fullest extent of their experience and education, which increases the access patients have to quality medical care.
"State lawmakers are also recognizing the value PAs bring to the healthcare team, particularly in rural and underserved areas," McGinnity said. "Following a year of unprecedented improvements to PA scope-of-practice laws, we have seen even more progress this year as legislators across 46 states and the District of Columbia have continued to modernize PA laws and regulations."
Recent data provided by NCCPA includes responses from more than 76,000 certified PAs—approximately 80 percent of the entire PA workforce. According to NCCPA, certified PAs increased by 219 percent between 2003 and 2013. Between 2012 and 2013, the number increased by 6 percent.
PAs practice medicine in all medical and surgical settings and specialties, including primary care, emergency medicine, surgery, oncology, orthopaedics, psychiatry, radiology, pediatrics and more.
New AAPA research shows that the average PA will practice in two or three different specialties throughout his or her career, making the PA profession one of the most dynamic in the healthcare industry today. As part of that care, a typical PA will treat 3,500 patients in a year.
About the American Academy of Physician Assistants
Founded in 1968, the American Academy of Physician Assistants is the national professional society for PAs. It represents a profession of more than 100,000 certified PAs across all medical and surgical specialties. PAs practice in all 50 states, the District of Columbia, the majority of U.S. territories and within the uniformed services. AAPA advocates and educates on behalf of the profession and the patients PAs serve. It works to ensure the professional growth, personal excellence and recognition of PAs and to enhance their ability to improve the quality, accessibility and cost-effectiveness of patient-centered healthcare. Visit aapa.org and pasconnect.org to learn more.