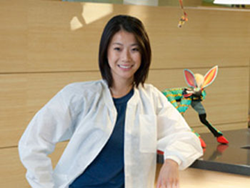 San Jose, CA (PRWEB) October 06, 2014
This fall, don't go back to school with bad breath. Now is the perfect time to learn how to fight bad breath so students can start the school year off right and make a good first impression. Japantown Dental has all the latest tips and information for the best ways to fight bad breath.
Bacteria feast on the plaque that forms on teeth from nuts, soda and even kale chips. The acidic byproducts from the bacteria emit an odor that over time can cause major bad breath, among other things, such as cavities.
Students should be sure to brush their teeth after they eat, but wait at least 30 minutes. The foods people eat create an acidic environment that takes at least 30 minutes for saliva to neutralize. Brushing before those 30 minutes are up could wear the enamel down due to the low pH level in the mouth.
Those who can't brush after every meal (such as those who have classes all day) should brush a minimum of two times a day, in the morning and at night. The worst thing people can do is to let all that food and drink sit in their teeth at night when saliva production is at its lowest. Saliva is helpful because the moist environment helps to water down the things sitting in the teeth.
Don't forget to brush the other thing in the mouth: the tongue. The tongue hosts thousands of taste buds, which should be cleaned with a toothbrush or tongue scraper.
It's also extremely important to floss. Floss can get to where brushing can't – in between the cracks of teeth. Don't let plaque sit there and become a buffet for bacteria. An anti-bacterial mouth rinse can also decrease the amount of bacteria present in the mouth.
Avoid odor-causing habits such as smoking. Smoking is not only bad for you, but it also creates an additional layer of "stuff" that covers teeth. In addition, it causes gum disease-resulting inflammation and bleeding of the gums, which only adds to bad breath.
Try chewing sugarless gum or suck on sugarless hard candy to promote salivation. But be careful – don't chew gum in class if it's not allowed!
See the dentist twice a year for cleanings and exam. Not only can the dentist see where patients can't and tell patients what they're missing, but they can also screen for other diseases that patients can't see, such as oral cancer, fungal disease and others.
See the regular MD yearly as well. Underlying diseases may also cause bad breath. These can include diabetes, kidney disease, vitamin deficiencies, bowel obstruction and others.
Food can get trapped in the pillar of fauces, which is right next to the tonsils. Over time, that "food ball" may come out looking like a hard, white ball emitting an obnoxious odor. If this is happening frequently, see the MD; a tonsillectomy may help.
Not only is bad breath a culprit of improper hygiene, but the bacteria from gum disease has been linked to heart disease, uncontrolled diabetes, cancer, preterm low weight birth babies and osteoporosis. Be sure to take the proper steps to deal with bad breath now and avoid the consequences of ignoring it later on.
To learn more ways to beat bad breath, contact Japantown Dental by calling 408-294-9944 or visiting http://www.japantowndental.com/.
About the company:
At Japantown Dental Group, they provide generations of happy, healthy smiles! Drs. Hiura and Nguyen work with patients to create a personalized treatment plan to fit their specific needs and desires. They believe that a patient's visit should be as pleasant and comfortable as possible and provide individual LCD TVs at each chair for patients to watch movies during their visit. Japantown Dental offers general dentistry services, including white fillings, veneers and emergency dental services, such as a broken tooth or bitten tongue. They are committed to providing their patients with the care and treatment that they deserve. Please visit their website for more information at http://www.japantowndental.com/.