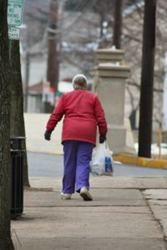 Researchers recruited patients for the study while they were still in the hospital and assessed them using the Post-Traumatic Stress Symptom Scale, which measures the 17 symptoms of PTSD, Science Daily reports
New York, N.Y (PRWEB) October 08, 2014
A study published last month in the journal General Hospital Psychiatry found symptoms associated with post traumatic stress disorder (PTSD) among elderly adults who had been admitted to hospitals after having been injured in falls. Researchers recruited patients for the study while they were still in the hospital and assessed them using the Post-Traumatic Stress Symptom Scale, which measures the 17 symptoms of PTSD, Science Daily reports.
According to the report, researchers gathered data about the patients' background, marital status, previous mental health issues and current health conditions. The article stated that the most common injury in such incidents was fractures. The study also found that women, people who did not have a job or who had less education and those who suffered back and chest injuries were more prone to PTSD symptoms after a fall. Some of the most common symptoms reported included feeling emotionally upset when reminded of the fall, a change in future hopes or plans and problems falling or staying asleep.
This study will hopefully create more awareness about fall-related dangers, especially for the elderly, said New York personal injury lawyer Kenneth A. Wilhelm. "As attorneys who represent slip-and-fall and trip-and-fall victims, many of them elderly, we understand the physical and emotional challenges these individuals face after a traumatic event. There is no question that it is a cause of great anxiety and stress for them."
Here are some of the tips Wilhelm offers for senior citizens to prevent these types of falls that may leave them disabled or with long-term physical and psychological issues:
1. Be aware of the medications you take. If some medicines have side effects such as dizziness or drowsiness, review them with your pharmacist.
2. Keep your vision sharp. Poor vision can make it harder to get around safely. Older adults should have their eyes checked every year and wear glasses or contact lenses with the right prescription strength to ensure they are seeing clearly.
3. It is important you get adequate exercise that will help improve strength and balance.
4. Eliminate hazards at home. Identify potential fall dangers that can be removed or changed such as clutter, tripping hazards and poor lighting.
5. Install handrails on all staircases and the bath area.
6. Wear supportive shoes at all times.
Contacting the Law Offices of Kenneth A. Wilhelm
For questions or comments please contact the Law Offices of Kenneth A. Wilhelm. Our New York personal injury attorneys can help victims and families with their slip-and-fall and trip-and-fall cases. We can also help with personal injury cases in New Jersey, Connecticut, Pennsylvania, or Florida.
The TOLL FREE phone numbers for us are:
1-800-WORK-4-YOU (1-800-967-5496),1-800-RADIO-LAW, 1-888-WYPADEK, OR 1-800-LAS-LEYES
Please visit us at: http://www.WORK4YOULAW.com
The Law Offices of Kenneth A. Wilhelm 
445 Park Ave, 9th Floor 
New York, NY 10022 
(212) 545-7373