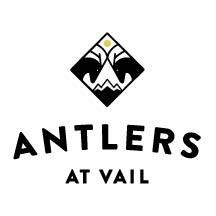 As we began to see the amazing results of our Unit Quality Improvement plan … we realized it was time for a new logo to represent the new Antlers.
Vail, CO (PRWEB) October 07, 2014
Nine months – and plenty of construction – after the Antlers at Vail hotel in Vail, Colo., launched its Unit Quality Improvement plan with the goal of bringing 100 percent of its suites up to Vail's highest "Platinum" ranking for lodging, more than half of the condominium hotel's units have received the luxe upgrades. To celebrate the milestone – and complement the upscale new look of its rooms – the Antlers has unveiled a new logo and redesigned website just in time for busy Vail ski season bookings.
Designed by Denver-based Wigwam Creative, Antlers at Vail's new logo offers a clean, modern approach while incorporating the Colorado mountain resort town's European cachet, as well as the hotel's popular elk antlers theme – on view in the iconic bronze statue of two clashing elk in the hotel's courtyard, a favorite photo opp for guests from around the world. Stylized snow-capped mountains and a yellow sun complete the logo, while offering a hat tip to Vail's renowned skiing as well as Colorado's famously sunny weather.
The just-launched website emphasizes photography – including the newly upgraded units as photographed by Michael Rawlings and styled by Amy Lewis – and presents the old site's familiar color palette in a new way. Created by Vail-based Nichols Interactive, the new http://www.antlersvail.com is a responsive site that automatically adjusts to devices used to access it, and puts the most valuable information at the user's fingertips while highlighting the fun personality of the Antlers' established blog and valuable feedback from travelers on TripAdvisor.
"Our logo and corporate identity was 40 years old, and as comfortable as we were with it – too comfortable, probably – as we began to see the amazing results of our Unit Quality Improvement plan moving us toward becoming an overall Platinum-rated property, we realized it was time for a new logo and visual brand to represent the new Antlers," says Antlers GM Rob LeVine. "Both because of our name and our well-known courtyard sculpture, we felt it was important to keep the elk and antlers as part of our logo. Plus, we wanted to convey that although we look better, our values remain the same, emphasizing our 'the answer is yes, now what is the question' approach to customer service, our family feel and our strong role as a community partner."
Unique to vacation destinations, Vail Valley Partnership manages a Lodging Quality Assurance program (LQA) that provides a standardized rating system for all units rented through the Vail Valley's central reservation systems, with Platinum representing the highest level of room appointments. Antlers at Vail interior upgrades in recent months have included granite countertops, stainless appliances, new flooring, lighting, entertainment systems, fireplaces, furnishings and much more – with resulting upgrades to the Platinum LQA scores.
"We're getting great feedback from our loyal guests who have been coming here for years about the changes both here at the Antlers and on our website," says LeVine, "which is so important to us. And at the same time we hope our new look and website presence will make it easier for new guests to find us and see what we have to offer."
About the Antlers at Vail:
The Antlers at Vail hotel offers a relaxed Vail lodging experience in a fabulous mountain setting. The hotel is a perennial recipient of the TripAdvisor Certificate of Excellence and recognized as a TripAdvisor GreenLeader. With condominiums ranging from studio suites up to four-bedroom penthouses, every unit at the Antlers enjoys a fully-equipped kitchen, fireplace, private balcony, daily maid service, and complimentary wi-fi and parking. The Antlers has an A+ location on the banks of Gore Creek, just steps from restaurants, galleries, shops, free Vail town shuttle and the Lionshead Gondola. And Antlers' staff is always ready to help with – and offer an insider expert take on – dinner reservations, activities or any other guest request. For more information, call 1-800-843-8245 or visit http://www.antlersvail.com.
Contact:
Anne McGregor Parsons, WordenGroup Public Relations, anne(at)wordenpr(dot)com, 303.777.7667