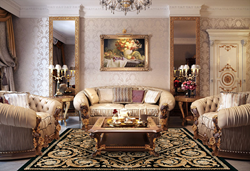 Each rug is truly a work of art. Handmade, woven with the world's finest silk, each rug takes up to 90 days to complete by hand.
San Diego, CA (PRWEB) October 07, 2014
GorgeousRugs.com is thrilled to announce the launch of their new website, a visually enthralling and customer friendly experience showcasing the finest rugs in the world. This sumptuous website showcases a beautifully curated collection of imported, artisan-made silk handmade rugs. A global destination, this discerning site is tailored for customers, designers and retailers alike. By creating a seamless buyer driven site, Gorgeousrugs.com is at the forefront of ethically sourced artisan made rugs.
Gorgeousrugs.com will offer a totally unique selection of hand selected artisan woven silk rugs, so intricately and expertly made that each rug is a work of art, the perfect showpiece for any interior. Many of the rugs are one of a kind.
Objets d' Art: The Splendor of 100% Silk
The combination of curated artisans with the finest material available was the start of this incredible collection of hand woven silk rugs that marry tradition and innovation. Each rug in this curated collection is made over a period of two-three months by a team of highly trained, skilled and artistic weavers. Our collaboration with these innovators means our customers have access to heirloom quality works of art in a wide variety of styles, colors, shapes and sizes.
Highlights of the available inventory include a wide range of styles, from traditional or conservative oriental rugs, contemporary styles with a touch of historic including the incorporation of international elements of design such as motifs from Persia, Tibet, China, as well as European influenced emblems and design such as Renaissance, Baroque, Neo-Classical styles as well as elements from the Aubusson and neo-Savonnerie genres among many others.
About Us:
Our mission is to provide our customers with the finest rugs in the world. We source the finest silk, use only expert weavers and employ creative designers, while maintaining sustainable beauty and ethical standards. We strive for excellence, and offer rugs that are not products of factories or mass production, but are artistic creations of the highest order.
Our dedicated sales team is delighted to offer this premiere selection of commissioned handmade luxury rugs. We are proud to carry forward the increasingly rare practice of weaving pure silk rugs completely by hand and by purchasing one of our rare pieces, you are contributing to the long standing Chinese cultural institution of weaving and design. You will also own a product made with the highest quality silk, by a remarkable team of talented and expert master weavers. We are thrilled to offer our customers this, rare, limited collection of world- class rugs.
###
For Press Inquires: Please contact store manager Karlyn Barrett at 858-877-0816