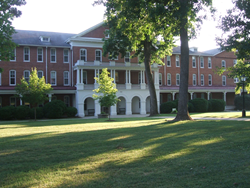 Students spend six weeks in residency on campus for four summers to complete the new MFA.
Roanoke, VA (PRWEB) October 08, 2014
Hollins University in Roanoke, Virginia, is now offering the first and only Masters of Fine Arts (MFA) in Children's Book Writing and Illustrating in the country. The new degree program joins Hollins University's highly-regarded MA and MFA in Children's Literature, and Certificate in Children's Book Illustration.
Students spend six weeks in residency on campus for four summers to complete the new MFA. Writers, editors, and agents travel to Hollins every summer to speak to students. The 2015 writer-in-residence will be Terri Windling, award-winning author and folktale scholar. Illustrator Charles Vess will be the guest artist.
Program co-director Ruth Sanderson says, "This new MFA will help students gain the skills necessary to pursue a career as a children's book author and illustrator. No other program offers this combination of intensive instruction in both disciplines. Summers at Hollins are jam-packed with exciting classes, inspiring speakers, and a close-knit community of aspiring writers and illustrators."
During the program's inaugural summer in 2014, Caldecott-winning author-illustrator Eric Rohmann taught a week-long printmaking seminar. Best-selling author-illustrator of Skippyjon Jones Judy Schachner conducted a weekend workshop on creating character bibles to develop book projects. Gayle Brown, art director at Eerdmans Books for Young Readers, stopped by for an informal session with students.
The Richard Wetherill Visual Arts Center offers beautiful, light-filled studio spaces for painting, drawing, and printmaking. The Wyndham Robertson Library archives many papers and manuscripts of famous alumna Margaret Wise Brown.
The Children's Literature faculty includes some of the most well-established and successful names in the children's book industry today.
Current MFA student Laurie Edwards says, "Summers at Hollins are magical: working with talented, caring professors, studying technique with renowned guest authors and illustrators, having time and space to create. What could be better for developing your craft?"
To find out more about the program, visit Hollins University.
To schedule interviews contact Robin Nolan at McDavidPR. 919-745-9333
About Hollins University
Since 1960, Hollins has produced amazing writers in our undergraduate and graduate creative writing program. Our students work with talented faculty members who are published poets, novelists, essayists, and scholars. We have received national acclaim for the works of our graduates (four have won Pulitzer Prizes) and for our distinctive approach to teaching.
On average, more than 40% of our students have an international learning experience. One of the reasons is that Hollins offers generous aid to help students better afford to study abroad. We offer our own programs in Paris and London, as well as the opportunity to study on affiliated programs in 14 other locations.
Two-thirds of our students complete an internship. Our program places students in companies, nonprofits, museums, law firms, and hospitals, both in the United States and abroad.