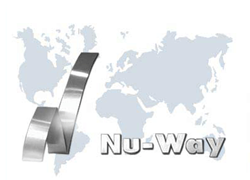 Fijak plans to use his leadership skills to enhance Nu-Way's complete solution approach to manufacturing.
Des Plaines, IL (PRWEB) October 08, 2014
Nu-Way Industries announces that Joe Fijak has joined its corporate leadership team as Executive Vice President of Sales and Marketing reporting to President, Steven A. Southwell.
As a thirty year plus veteran of both high tech and mechanical systems industries, Fijak focused heavily on integrated, value-added solutions. Providing a complete solution approach Fijak believes enhances Nu-Way's value as a partner to its customers.
Fijak is a versatile, tactical leader. Using his proven expertise in P&L management as well as strategic business planning and development, Fijak has worked on division start-ups; contract negotiations; key account/supplier management; talent development; marketing/sales optimization; consultative sales and program development; and global sales growth.
An accomplished senior operations, sales and business executive, Fijak drives profitable growth using direct, indirect and key global account channels within the national and global commercial electronics distribution industry. Fijak plans to use his leadership skills at Nu-Way to advance its market-share and form alliances utilizing an extensive network of regional, national and global distributors, rep firms, suppliers and contract manufacturers.
During the past twenty years, Fijak has directly managed over $3B in revenue. Before joining Nu-Way, Fijak was Senior VP for Worldwide Sales at Sanmina-SCI Corporation in their Mechanical Systems & Display Solutions Division. Other VP roles include Avnet's Display and Digital Signage Solutions.
A key career accomplishment for Fijak was playing a major role in taking a privately-held technology distribution and manufacturing company to a successful IPO launch on the NASDAQ. He's spent almost nine years living and working in Silicon Valley building strategic relationships in the technology industry and traveling around the world to expand business endeavors.
Fijak holds a BS in Organizational Behavior from the University of San Francisco.
Since 1968, Nu-Way Industries has provided contract metal fabrication and assembly services using advanced technology equipment to serve its diverse customer base from a 300,000 sq ft manufacturing facility.