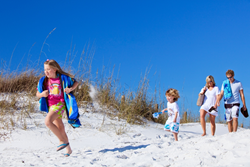 The Emerald Coast features a breadth of fun and educational experiences at local aquariums, nature centers and state parks.
DESTIN, Fla. (PRWEB) October 08, 2014
Newman-Dailey Resort Properties invites families to make the most of their fall school break with a fun and educational Destin vacation. With Destin's diverse opportunities to learn about nature and Northwest Florida's coastal environments, students can continuing learning outside of the classroom while enjoying time at the beach. In addition, parents will enjoy the off-season rental rates and Newman-Dailey's special promotions, offering an additional 15 to 20 percent off Destin vacation rentals.
"Families are accustomed to planning a spring break beach getaway, but often don't consider a fall beach getaway" said Jeanne Dailey, owner of Newman-Dailey Resort Properties. "The fall is the most beautiful time of year along the coast. Now that many schools have added a fall break, it is a great opportunity to enjoy a relaxing beach getaway while keeping learning at the forefront."
The Emerald Coast features a breadth of fun and educational experiences at local aquariums, nature centers and state parks. For starters, Gulfarium Marine Adventure Park is a fun, educational activity. Dolphins, sea lions, harbor seals, sharks, stingrays, and sea turtles are but a few of the hosts that entertain and educate families during their visit. As an added bonus, during the month of October, Gulfarium is featuring two special offers on animal encounters, including the Ocean Odyssey and VIP Trainer Encounter.
The area is home to four beachfront state parks, including Deer Lake State Park, Grayton Beach State Park, Topsail Hill State Preserve and Henderson Beach State Park. These natural areas offer many opportunities for families to experience and learn about Northwest Florida's coastal environments. Topsail Hill State Preserve, one of the most pristine state parks in the state, offers a wide variety of natural resources including 3.2 miles of secluded trails, majestic dunes over 25 feet tall and three rare coastal dune lakes. Regular ranger programs take families on tours of the park, and feature a variety of topics from the Eastern Gray Squirrel to the Florida Black Bear.
In Destin, Gator Beach at Fudpucker's invites families to experience up-close encounters with live alligators and learn all about one of Florida's most popular native species. Gator Beach is home to 100 live alligators, including a rare yellow alligator, appropriately named "Mellow Yellow."
The fall season is complemented by nature-themed events, including the Explore the Outdoors Festival (Oct. 11) hosted by WaltonOutdoors.com, the Annual SWCC Back to Nature Festival(Oct. 17-19) and Fall Festival at Topsail Hill State Park (Oct. 24).
From one bedroom condos to spacious five bedroom Destin beach houses, Newman-Dailey offers South Walton and Destin vacation rentals for any size family and budget. In addition, guests of Newman-Dailey receive the Newman-Dailey Gift Card, good toward area activities, attractions and free movie rentals.
Newman-Dailey Resort Properties is featuring two fall special offers "3 For 15" and "4 For 20". Families who book a three night stay under the promotion will receive 15% off and guests who book a four night stay or more using this promotion will receive a 20% discount on top of the already low seasonal fall rates. The fall Destin vacation special offer is good for stays now through Nov. 14, 2014 with Promo Code: 3FOR15* or 4FOR20*.
*Some restrictions apply. This offer is good with new reservations for stays of three nights or more through Nov. 14, 2014. Not valid with monthly rentals or the Beachside Inn.
###
About Newman-Dailey Resort Properties, Inc.
Newman-Dailey Resort Properties is a locally-owned business, specializing in resort rentals, sales and management in Destin and South Walton for more than 29 years. Recognized for excellence, integrity and professionalism, Newman-Dailey consistently receives "excellent" rankings on TripAdvisor. The Real Estate Division is consistently listed among the top 10 percent of real estate companies along the Emerald Coast for sales. For more information, call 850.837.1071, or visit online at DestinSales.com or DestinVacation.com.