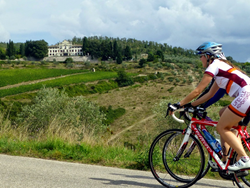 Tuscany is an ideal location for exploring on two wheels and, understandably, is a 'bucket list' destination for many cyclists.
Portland, OR (PRWEB) October 07, 2014
LifeCycle Adventures (http://www.lifecycleadventures.com), a cycling vacation company known for its customized bike tours in California, Hawaii, Washington's San Juan Islands and Oregon, is now operating cycling tours in Tuscany, Italy. The bike tours are based out of Florence and Siena and include travel through medieval hilltop towns such as San Gimignano, Pienza and Montepulciano. The company is now taking bookings for vacations beginning May 2015 onwards.
"I have lived in Italy in the past and love everything about it, including the stunning countryside, fantastic food and history around every corner, "said Tony Blakey, LifeCycle Adventures founder. "It is where I first began leading bike tours and, since starting LifeCycle, it has been a dream of mine to expand our operations here. Tuscany is an ideal location for exploring on two wheels and, understandably, is a 'bucket list' destination for many cyclists."
TUSCANY, ITALY BIKE TOURS
Italy's Tuscany region is a gorgeous travel destination and LifeCycle Adventures offers the opportunity to get off the beaten path and discover its authenticity. Guests cycle through the rugged hills and rolling fields of the Tuscan countryside, experiencing history while riding past ancient churches and castles that date back to the Roman Empire and stopping overnight in medieval hilltop towns to enjoy delicious Italian cuisine and wine at the end of the day. Sample rides include:

Siena to Radda – This trip begins with a gentle ride in the morning out of Siena across rolling farmland and through vineyards, passing by the Castello di Brolio, a 12th century castle and one of the best wineries in the Chianti region. As you approach the hilltop town of Radda, the terrain changes to olive groves and forests as you complete the final climb to your overnight destination.
Radda to San Gimignano – Ride through several landscapes, including forests, open valleys and large rolling hills. Pass through the hill town of Castellina – stopping off for the best gelato in Tuscany – before seeing the stunning skyline of towers of San Gimignano.
San Gimignano to Volterra day trip – Don't forget to stop and take out your camera as you ride past the glorious patchwork fields of corn, wheat and sunflowers on your way to Volterra. Climb the twisting, small and quiet back roads until you reach the hill town, spending the day exploring the Etruscan relics, medieval streets and Roman amphitheater.
San Gimignano to Sovicille – After a descent past acres of rolling vineyards, pedal on twisting roads through a mix of olive groves and sheep pastures, passing by an artisanal cheese farm that specializes in Pecorino, made from local raw sheep's milk. The beautiful terrain continues through green farmland to the rural village of Sovicille.
LifeCycle Adventures launched in 2004 to provide personalized bike tours in Napa and Sonoma Counties, primarily for couples and small groups. In 2010, the company expanded to offer tours in Oregon's Willamette Valley and Columbia River Gorge followed by Hawaii's Big Island in 2012, and in 2013 Washington's San Juan Islands.
Unlike most bicycle-vacation companies – that require guests to join a large group on a pre-scheduled tour – LifeCycle Adventures creates custom itineraries for each individual party, with an industry-leading focus on a high level of personalized service both before and during trips. The company's on-the-ground staff develops daily route maps, arranges lodging, provides on-demand van support, transports luggage and provides bikes – and helps find those "hidden gems" that only locals know about. The company provides private transfers from regional airports to maximize the time guests have for riding. Tuscany tours also offer electric bicycles as a rental option, which can help balance abilities if there is a stronger rider in the group.
Pricing varies depending on accommodation choices and length of stay, but commonly ranges from $1,000-3000 per person. Guests can book a tour by calling 1.888.NOW.BIKE in the U.S. (0800-587-8663 in the U.K.) or visiting LifeCycle Adventures on the Web at http://www.lifecycleadventures.com. As tours fill up quickly, it is recommended that guests book their tours at least six months in advance.
ABOUT LIFECYCLE ADVENTURES
LifeCycle Adventures is an owner-operated bicycle tour company based in Portland, OR that offers cyclists some of the most personalized and well-supported tours in the industry. The company is meeting a growing demand from travelers for tailor-made vacations; combining high-touch service previously only found on group tours with the flexibility of individual travel. Visit LifeCycle Adventures on the Web at http://www.lifecycleadventures.com, email info@lifecycleadventures.com or call 888-NOW-BIKE/888-669-2453 (from outside the U.S. call +1 415 366 3806).
###