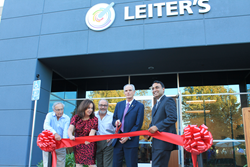 These changes will continue to put Leiter's Compounding at the forefront of quality and safety.
San Jose, CA (PRWEB) October 09, 2014
Leiter's Compounding, a full service compounding center and Outsourcing Facility, today hosted the ribbon-cutting ceremony for its brand-new, state-of-the-art lab in San Jose, California. The 22,000-square-foot facility, one of the largest of its kind in the country, serves patients and facilities in 49 states and other international locations. The new facility will serve as the U.S. headquarters for Leiter's Compounding, including over 10,000 square feet of office space.
Charles Leiter, President and CEO, and his father, Mort Leiter, CFO and Chairman of the Board, cut the ribbon today at a ceremony to commemorate the new facility. In attendance was San Jose city mayor, Chuck Reed, and city council member Ash Kalra.
Charles Leiter said, "In addition to large sterile and non-sterile clean rooms, our new facility has a comprehensive call center, providing high quality customer service." In response to compounding industry changes, including additional oversight by the US FDA, Leiter commented on Leiter's Compounding's ability to adapt. "In conjunction with higher industry standards, we have added top-of-the-line compounding equipment and hired additional highly trained Quality Assurance pharmacists, technicians, and staff. These changes will continue to put Leiter's Compounding at the forefront of quality and safety."
"Leiter's Pharmacy was started over 80 years ago by my father and we have constantly responded to emerging industry trends," said Mort Leiter, second generation owner-operator and pharmacist. "This new facility will continue to allow us to provide the highest quality compounded medications and meet our motto, 'Quality without Compromise'."
"It's great to see a home-grown business like Leiter's Compounding thrive and expand in San Jose," Mayor Chuck Reed said. "Leiter's new state-of-the-art facility will find a fitting home in the Capital of Silicon Valley and help accommodate the company's ongoing growing workforce. I'd like to thank Leiter's for their commitment to San Jose and for the jobs and investments that they've brought to our community over the past 50+ years."
About Leiter's Compounding
Leiter's Compounding is a compounding facility located in San Jose, California. Leiter's has sterile and non-sterile clean rooms and compounds over 11,000 custom prescription medications. It is the industry leader in ophthalmic compounds and solutions. It is currently operated by President and CEO Charles Leiter, Pharm. D. Leiter's Compounding Pharmacy has compounded more than 3 million sterile doses in the last 25 years. Visit Leiter's Compounding online at http://www.leiterrx.com