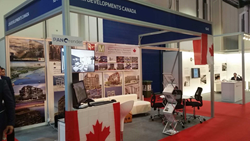 LJM Developments recently started construction on its Burlington project, Appleby Gardens
Burlington, Ontario (PRWEB) October 07, 2014
Cityscape Global Real Estate Conference in its 5th year in Dubai brings together the largest and most influential players in the region for one sought-after summit. With exhibitor numbers reaching over 280 for the first time in 5 years and over 35,000 visitors, Cityscape provides a one of a kind opportunity for developers, architects, designers, and purchasers to connect, showcase and learn from interactive conference sessions on real estate in the Middle East and from around the world.
The conference provides many learning opportunities such as the Real Estate Summit including asset classes for retail, residential, hospitality or offices as well as specialty seminars such as the Global Real Estate Summit focusing on the need of the private sector to provide and meet the demands for affordable housing.
LJM Developments, as only a handful of real estate corporations from Canada in attendance, placed itself in a prime position to garner buyer interest in Ontario. LJM has proven their commitment to representing Canada on the Global Real Estate stage by attending first the MIPIM, also known as the World's Property Market, in France, and now showcasing their talent at Cityscape in Dubai, UAE.
LJM Developments attended the event not only to gain an international perspective of the Ontario and Canada property market, but also to reach out to end-users who may be considering a strategic move to Canada. For Canadians living in Dubai or other people looking to make a move to Canada, LJM was able to deliver first-hand the story of the strong Ontario allure and Canada as a whole.
LJM's Shaheryar Mian says, "Our experience was that Canada has a very strong national brand and people love to hear about possibilities for immigrating to the country. We felt such sentiment particularly from the South Asian community in Dubai." LJM Developments recently started construction on its Burlington project, Appleby Gardens, and the developer sold more than 75% of Waterview Condominiums in Grimsby in its pre-sale round.
About LJM Developments
LJM Developments is a recognized industry leader in real estate development in Ontario, Canada. The company has developed highly-acclaimed signature projects in the residential and commercial sectors that are a perfect synergy of world class architectural design and cutting-edge construction quality. For more information, please visit the company website at http://www.ljmdevelopments.ca
####
If you would like more information about this topic or need to make further press inquiries, please contact LJM Developments at 289-245-1900 or e-mail: info(at)ljmdevelopments(dot)ca