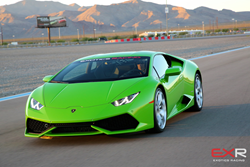 The first Lamborghini Huracán in the country
Las Vegas, NV (PRWEB) October 07, 2014
Exotics Racing, home of the ultimate driving experience, proudly announces the arrival of its first Lamborghini Huracán. Exotics Racing is currently the only driving school in the country to offer the Huracán to the public. It is also the latest addition to the Exotics Racing collection of supercars; already the world's largest..
Exotics Racing empowers customers to settle into the Huracán's jet-fighter cockpit and feel the 610 horsepower this technological supercar possesses. Accelerate from 0-60mph in under 3 seconds, experience unparalleled aerodynamics, test the aluminum and carbon fiber space frame with effortless directional changes entering and exiting corners and scream down the straights into euphoria.
Advance your driving skills and prepare for the Exotics Racing experience with a classroom driving instructions. Then preview the track for an exclusive 1 on 1 instruction as a professional driver illustrates the best lines, braking points, cornering skills, etc., enhancing the driving experience to come.
From there, it's time to put the lessons and a lifetime of fantasy to reality behind the wheel of the Lamborghini. "We are honored with the addition of the Huracán and as Lamborghini gracefully states, 'It's like a time machine, only faster'", explains David Perisset, co-CEO. Adds Romain Thievin, co-CEO, "We are proud to share the experience with our guests and expect the Huracán to be one of the most sought after supercars in our fleet."
Book your reservation with Exotics Racing, voted #1 Best of Extreme Adventure Experience, and drive the next generation Lamborghini, the Huracán today. With 5 lap packages starting at only $399, less than a set of rear tires and a far cry from the $237,250 price tag, Exotics Racing is 'The Ultimate Driving Experience'.
About Exotics Racing: Founded by French stunt driver and racecar driver Romain Thievin and David Perisset, Exotics Racing brings you the original supercar track driving experience, with the world's largest fleet of exotic cars. Launched in 2009 at the Las Vegas Motor Speedway, Exotics Racing has hosted over 130,000 satisfied customers. Guests visit the track from around the world to drive today's most exciting supercars with professional racing instruction on real racetracks in Las Vegas and Los Angeles. Details for the racing school can be found on http://www.exoticsracing.com or calling (702) 405-7223.