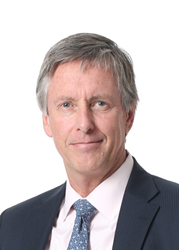 "It is an honor to be included among such an extraordinary group of my water industry peers."
Broomfield, Colo. (PRWEB) October 07, 2014
MWH Global Chairman and Chief Executive Officer Alan Krause has been featured in a newly released book, "The Value of Water: A Compendium of Essays by Smart CEOs." The book by Donna Vincent Roa, PhD, includes 40 essays from CEOs and the most senior leaders of water utilities and associations to inform the conversation about water's future and show that the "business as usual" approach to our limited water resources needs to change.
"The thoughtful and provocative CEO essays probe complex issues and provide a unique look inside the world of water," Roa said. "The book addresses how we can educate the public on the critical role of water infrastructure and the value of water, the role of technology and innovation, the water 'utility of the future,' and a range of topics that will allow readers to rethink how they use water in their daily business and personal lives."
"It is an honor to be included among such an extraordinary group of my water industry peers," said Krause. "With only one percent of the Earth's water readily accessible for use, it is my sincere hope that this book will raise the important issue of water in both the national and global discourse."
The project was originated and executive produced by Roa in collaboration with the Value of Water Coalition, which includes key public and private sector leaders from the U.S. water industry. Roa is managing partner and CEO of Vincent Roa Group and is a recognized expert in addressing communication challenges opportunities in the public and private water industries.
"The Value of Water: A Compendium of Essays by Smart CEOs" is now available on Amazon, other online retailers and the Value of Water book website.
About MWH Global
MWH Global is dedicated to Building a Better World. As specialists in water and natural resources, MWH employees use innovative ideas and technology to help solve complex infrastructure and environmental challenges. This work is built on a nearly 200-year history during which MWH has delivered services from initial planning and design through construction, start-up and operations. Today, MWH employs more than 7,000 experts including engineers, consultants and construction professionals in 35 countries on six continents. Each of these experts is committed to serving global communities through sustainable development and project delivery. MWH is a private, employee-owned company headquartered in Broomfield, Colorado. For more information, visit http://www.mwhglobal.com or connect via Twitter, Facebook and LinkedIn.