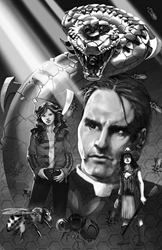 This is a testament to the quality of our winners work
Hollywood, CA (PRWEB) October 06, 2014
L. Ron Hubbard Writers of the Future contest winner Nick T. Chan from 2012, Volume 28, and K.C. Norton, from 2014, Volume 30, along with multiple finalist Jennifer Campbell-Hicks were published in the 41st issue of the InterGalactic Medicine Show magazine. Nick and Jennifer collaborated on "The Temptation of Father Francis" while K. C. Norton had "The Far Side of Extinction" published.
"This is a testament to the quality of our winners work", Dave Wolverton, coordinating judge of the Writers of the Future Contest stated. It is a popular magazine for our winners and even our finalists to submit to."
Edited by Orson Scott Card and Edmund R. Schubert the popular magazine routinely publishes winners of the Hubbard competition.
An issue of the IGMS magazine 2 years ago had 4 winners of the contest in the same issue. It was not done intentionally.
As it is free-to-enter, L. Ron Hubbard's Writers of the Future, now in its 31st year enjoys amazing success with thousands of entrants yearly. Created by best-selling author L. Ron Hubbard, the contest has to date launched the careers of 12 New York Times bestselling authors.
To learn more, including details on how to enter the contest, visit the website at http://www.writersofthefuture.com