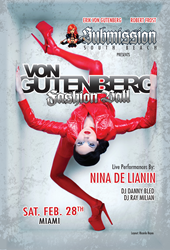 We really do regard The Fetish Ball as more than just one night of alternative fashion and partying, it is a lifestyle of fun and expression!
Miami, Florida (PRWEB) October 09, 2014
Erik Von Gutenberg and Robert Frost, present the 3rd annual Von Gutenberg Latex Fashion Ball.
Erik is the photographer/magazine publisher of the global latex lifestyle quarterly Von Gutenberg Magazine. Robert Frost runs Submission South Beach, a purveyor and promoter of lifestyle entertainment in greater Miami and across Florida. Partnering for the 3rd year in a row Erik and Robert present this first-of-the-year must-attend getting together of fashionistas and fans for a full weekend of partying, Feb 26-28th, at host hotel Aloft Miami Brickell in the glorious party city of Miami.
The line-up of talent and activities for the 2015 weekend will deliver more thrills than ever before. DJ's Danny Bled and Ray Milian will be on hand to keep the sounds pumping all night, live performances, dancers and latex fashion shows by Vengeance Designs from NYC and Lovely Latex by Brigitte More from the Netherlands. There will be an extra special performance from Germany's own Nina de Lianin.
Nina de Lianin or Divina as she is also known throughout the world, is an actress, model and performer of singular acclaim. As the lead singer of the German electro band In Strict Confidence, as well as working in musical theatre productions of every style, Nina is as well versed in Broadway broadsides as she is in the wild solo theatrical pieces that make her especially suited for the provocative performance she will delighting the V.G. Latex Fashion Ball audience with.
Nina's performance alone is worth the price of admission.
"Every year Robert and I work hard to present a full weekend of fun attendees will be talking about the entire year…until the next ball," Erik says. "We really do regard The Fetish Ball as more than just one night of alternative fashion and partying. Aloft provides us with a great home base for a full weekend of fun, networking and partying. And truly, where else but in Miami could we host an event like this? Robert knows this city, its people and love for latex couture. It is a match made in heaven."
Aloft Miami Brickell is located at located at 1001 SW 2nd Avenue, Miami, FL 33130. Tickets for the ball and all other information can be found here: http://www.vongutenberg.com select category VG Ball or go directly to http://www.vongutenberg.com/shop. Fetish friendly meet and greet industry party is Friday the 27th at 525 Ne 29th st, Wynood 33137. The Von Gutenberg Fashion Ball is Saturday, Feb 28th at Grand Central, 697 N. Miami Ave.
Begin your 2015 off right by attending the one event no true latex fan can miss, the The Von Gutenberg Latex Fashion Ball.
ABOUT VON GUTENBERG
As the world's leading high-end luxury niche brand Von Gutenberg strives to empower the feminine mystique by presenting ever divergent points of view and forever championing the many artisans who work tirelessly to reveal their unique visions to the world. The Von Gutenberg portal-magazine, website, ebooks, social network-unfurls a multi-media canvas that consistently proves to the authority for consumers, fans and fashionistas with that special taste for latex couture.
ABOUT SUBMISSION SOUTH BEACH
Submission South Beach features promotes the very best lifestyle entertainment in greater Miami with their monthly party in Miami South Beach and events across the South Florida area. Featuring amazing music with their lead DJ Danny Bled, as well as local and global entertainers both, the dedication and instinct of Submission South Beach owner/promoter Robert Frost assures attendees flying-in from all over the globe that a Submission event is not to be missed.