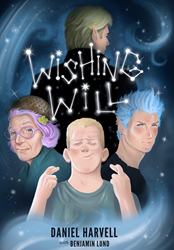 The act of granting a wish not only improves the recipient's life but also and, perhaps, especially improves the life of the wish-granter.
Austin, Texas (PRWEB) October 07, 2014
Authors Daniel Harvell and Benjamin Lund proudly announce the "Wishing Will Change a Life" contest, which will bring one lucky person's wish to life. Participants can submit one wish per person through the authors' Facebook page at no-charge until midnight CST on November 7, 2014. The winner will be drawn at random and announced on 11/11, The Wishing Day. There is one small caveat: the wish has to be selfless; the wish must be made for someone other than the wish-maker.
Just as ordinary middle schooler Will Cricket learns of the power of the charitable wish after stumbling upon a corporation of extraordinary wish-granters in Wishing Will (AISN: B00DGKSKOE) by Daniel Harvell and Benjamin Lund, the "Wishing Will Change a Life" contest is intended to impart the same feelings of altruism to its participants.
"Wishing Will is many things – a fantastical, adventurous and mystery-filled coming-of-age story – but above all it's an exploration of the power of actively pursuing wishes to help make other people's lives better," said author Daniel Harvell. "As it turns out, the act of granting a wish not only improves the recipient's life but also and, perhaps, especially improves the life of the wish-granter."
As is the case with all wishes, the authors concede that there are, unfortunately a few limitations on their ability to grant the winning wish. "As much as we would love to impart world peace, end global hunger and eliminate diseases, we aren't nearly as magical as the characters in our book," said author Benjamin Lund. "We ask that participants keep their selfless wishes to a level that we'll be able to grant. For example: Do you have a relative who can't afford to travel to see a family member? Is there a classroom that needs new school supplies? Do you have a tireless volunteer in your community who deserves to be pampered? There are a lot of good people out there who deserve to see wishes like these granted."
"For practical reasons, we have to initially cap the value of the winning wish at $500," said Harvell. "But Benjamin and I will use all of the proceeds from the Wishing Will book sales over the next month to increase our ability to enhance the selfless wish of our winner … or maybe even choose multiple winners. I have a strong feeling that we're going to have a great deal of support in our efforts to grant noble wishes and that we'll be able to do more good than anyone, including ourselves, anticipates."
Wishing Will is on sale exclusively at Amazon.com. The e-book is normally priced at $2.99 but will be discounted to just $.99 from October 7 – 13, 2014 in celebration of the "Wishing Will Change a Life" contest. The cost of the paperback version is $12.99. For e-readers without a Kindle, don't worry—just download the Kindle app onto your smart tablet or phone and then download and read the book as normal.
About Wishing Will:
Outcast middle schooler Will Cricket wants a new look, popular friends, cool parents and enough coordination to dribble a basketball - but he never actively pursues any of it. Instead, Will makes wishes.
When the magical wishing corporation known as the Sky Castle Network and Enterprises (a.k.a. the SCENE) agrees to grant him his ultimate wish to be someone different, he must work for his reward. Becoming a super-powered agent for the organization, Will teams up with a celestial wish agent with delusions of Hollywood stardom, a shape-changing half-Genie, a narcoleptic Dreamweaver and a stick-in-the-mud wish lawyer.
Together, they grant the wishes of Will's classmates and family members, helping the same people who pick on Will every day. As if these challenges weren't enough, there's a mystery surrounding his peculiar grandmother and a malevolent force bent on enslaving humanity. Will might have to fight not only for his wish but also for the entire world!
About Daniel Harvell:
Daniel Harvell is author of the middle grade contemporary fantasy novel Wishing Will, which was named by Amazon.com as a "hot new release" for children's fantasy coming of age novels during its debut in July 2014. His first novel, The Survivors, was a #1 download for "superhero" fiction at Amazon.com in July 2013 and maintains a five-star rating. For more information about the books, upcoming novels, writing tips, book-marketing pointers and more, visit his website at http://DanielHarvell.com.