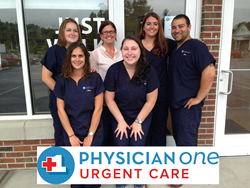 Most importantly, you feel like what you're doing matters, and it really does.
Brookfield, CT (PRWEB) October 07, 2014
For the third consecutive year, PhysicianOne Urgent Care has been recognized as one of the Hearst Connecticut Top Workplaces. Released annually by Hearst Connecticut Newspapers, this prestigious list is comprised of only a handful of companies and organizations that have set themselves apart as the state's top employers.
Back in 2012, PhysicianOne Urgent Care became the youngest company to receive this honor. Since that time, the healthcare provider has expanded its presence with locations in Brookfield, Newtown, Norwalk, Ridgefield, Southbury, Glastonbury, Groton, Norwich, and coming soon, Colchester. These urgent care clinics have become a popular alternative to emergency rooms and primary care physicians during off and peak hours. It has also made it an employer of preference for dedicated professionals looking for opportunities to experience high levels of engagement and job satisfaction.
"At PhysicianOne Urgent Care, we're committed to our patients," said Dr. Rob Rohatsch, CEO. "Since our staff is responsible for patient satisfaction, we want each employee to both know and feel as if their work is meaningful and satisfying. Part of this is offering a competitive compensation package with 401K, healthcare, competitive salaries, and tuition reimbursement. The other part is making sure our employees know we care about them and their families. We regard our staff as our extended family and treat them as such."
To comprise its Top Workplaces list, Hearst Connecticut Newspapers relies on employee surveys conducted by WorkplaceDynamics, LLP, a leading research firm on organizational health and employee engagement. WorkplaceDynamics found that PhysicianOne Urgent Care employees responded positively about the work environment because they feel appreciated and valued, are confident about their future with the company, and have important and meaningful work. PhysicianOne Urgent Care employees also expressed confidence in their leaders and reported very little job frustration.
"The work environment here is professional, fulfilling, and fun," said Kelly Mclaughlin, a clinic level team member. "All of the members of our team are invested in providing great care, being passionate about what they do, and supportive of their fellow coworkers. Most importantly, you feel like what you're doing matters, and it really does."
According to Dr. Rohatsch, these findings reflect PhysicianOne Urgent Care's dedication to employee satisfaction, which stems from the company's strong values and ethics.
"An effective healthcare provider needs a staff of qualified, attentive professionals who care about their patients," he said. "We cultivate this by creating an enriching, supportive work environment that attracts talented, high-character employees. This is just one of the many factors that make our clinic a trusted health care provider for countless Connecticut residents, who need top-quality care when time is of the essence."
About PhysicianOne Urgent Care
Established in 2008, formerly operated under the name Urgent Care of Connecticut, PhysicianOne Urgent Care is doctor owned and operated. As the first urgent care clinic in Connecticut to be accredited and certified by the Urgent Care Association of America, and accredited by The Joint Commission, PhysicianOne Urgent Care takes great pride in its practice of evidence based medicine, a patient first philosophy, providing a cost effective alternative to the Emergency Room, and being a convenient alternative to primary care physicians during off or peak hours. PhysicianOne Urgent Care provides walk-in treatment for a wide array of illnesses and injuries. On-site services include x-ray, lab services, and a medication dispensary.
All locations are open 365 days a year. Experienced doctors are on-site at all times. Most insurances and Medicaid accepted. For more information, please visit http://www.physicianoneurgentcare.com.