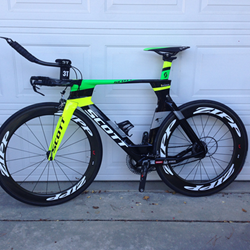 Santa Monica, CA (PRWEB) October 07, 2014
Spinlister, the peer-to-peer global bike share, announced today that six-time Ironman Champion and 2013 Ironman World Championship Runner-Up Luke McKenzie has joined Spinlister as a professional athlete ambassador. McKenzie who will be competing this Saturday, October 11th, at the Ironman World Championships in Kailua Kona, Hawaii is vying for his first win at the World Championships after his breakthrough performance last year. Spinlister users also now have the opportunity to rent Luke's bike for training, racing, or the enjoyment of riding a personal bike from one of the best Ironman athletes of all-time.
Luke is the most recent professional athlete to join Spinlister, joining the likes of Ironman legend Chris McCormack. "When Spinlister approached me with this opportunity I immediately saw the great things we could do together," says McKenzie. "Anyone who races or trains throughout the year knows the hassle of traveling with a bike. But, beyond that, Spinlister is a chance to share and accelerate the growing bike culture on a global scale. They are making it easier for anyone, anywhere, to hop on a bike."
"We saw the great work Luke was doing with his Go Luke Charity, as well as his amazing race resume, and knew we had to have him on our team," says Marcelo Loureiro, Spinlister's CEO. "Spinlister is more than just a peer-to-peer bike share, our core values drive us to be socially responsible. Luke is the perfect role model for life and the sport of triathlon. We can't wait to watch Luke race this saturday as he competes for his first Ironman World Championship title."
Spinlister is encouraging triathletes to list their bikes at http://www.spinlister.com/list to make money and to help fellow triathletes in need of a bike. All bikes are insured up to $10,000 against theft or damage. If you would like to rent the bike of an Ironman Champion or find bikes to rent in the city of an upcoming race, please visit http://www.spinlister.com.
About Spinlister:
Launched on April 1st 2012, Spinlister is a peer-to-peer global bike share that allows users to rent and list bicycles, skis, snowboards, SUPs, and surfboards from each other in over 50 countries worldwide. With their seamless web, iOS and android apps, built-in security features, and a database of user reviews, Spinlister has won the trust of communities of athletes all over the globe.