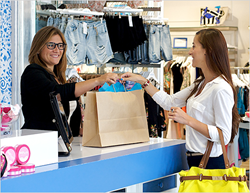 Retail establishments absolutely cannot afford to have business interruptions or down time
Hoboken, NJ (PRWEB) October 07, 2014
eMazzanti Technologies, a New York City area IT consultant and managed services provider, has published a new case study recounting the delivery of IT infrastructure and services to retailers over the past five years through a successful partnership with KWI, the leading provider of cloud-based solutions to manage retail chains.
PCI compliance, business continuity, and managed IT services provided by eMazzanti have facilitated on-time openings for hundreds of stores, and smooth operations and excellent references for KWI. The study relates how KWI has depended on eMazzanti Technologies to provide reliable infrastructure installations to hundreds of stores in diverse locations, facilitating tight installation schedules and few customer support calls.
"With eMazzanti building infrastructure for our customers we just set it and forget it," stated Gary Brill, vice president of business development, KWI. "Providing worry-free IT is where eMazzanti shines."
A Five-year Partnership
In 2009, a client informed KWI of eMazzanti's IT consulting, implementation and support services and encouraged them to contact Carl Mazzanti. "Since it was important to us to provide quality and reliability, we thought it might be a match," stated Brill.
Before long, KWI engaged eMazzanti to provide a variety of outsourced IT services to their retail chain customers, including:

Network Implementation
PCI Compliance
Secure Mobile POS Solutions
24/7 Network Monitoring and Maintenance
Business Continuity Planning
Backup and Disaster Recovery
Cloud Computing
Managed Print Services
Video Security
eMazzanti also offers comprehensive IT security, proactive IT support, IT implementation and IT maintenance to KWI's customers for one flat fee per asset per month with their eCare Network Management Services.
Business Continuity
KWI's Cloud 9 Mobile POS technology "dazzles" customers with hand-held "transformative" retailing. KWI depends heavily on the secure and reliable wireless internet infrastructure supplied by eMazzanti to support a large retail community of mobile POS users accessing in-store mobile applications.
"Retail establishments absolutely cannot afford to have business interruptions or down time," stated Carl Mazzanti, CEO eMazzanti Technologies. "Reliable wireless networks, Internet service, servers, and backup and recovery systems are all critical to retail business success."
On-time Store Openings
With dependable network infrastructure installation from eMazzanti, KWI has achieved a near-perfect record of on-time store openings, allowing them to tightly schedule installers and trainers. "That means our operation is running smoothly," explained Brill "We don't have to worry about schedule problems and having enough people."
Partners in Success
After five years and hundreds of installations, KWI and its retail POS customers continue to profit from the eMazzanti partnership. "Our work with eMazzanti has been very successful," stated Brill. "eMazzanti takes care of all of our customers. That's one less thing we have to deal with."
Other related resource information:
6 Technology Options to Improve Service and Enable Growth for SMB Retailers
Disaster Recovery and Data Security Excellence Propel eMazzanti to Fifth Consecutive Ranking on Inc. 5000 List
About KWI
KWI provides a full suite of back office and POS cloud-based solutions to manage retail chains of any size. Clients include start-up and high-end specialty retailers and franchisors. As the leading cloud-based retail provider, KWI represents thousands of stores across 100 plus retailers – the largest solution provider of POS in specialty retail in 2014.
About eMazzanti Technologies
eMazzanti's team of trained, certified IT experts rapidly deliver cloud and mobile solutions, multi-site implementations, 24×7 outsourced network management, remote monitoring and support to increase productivity, data security and revenue growth for clients ranging from professional services firms to high-end global retailers.
Serving more than 400 Hoboken, NJ, NYC area and international customers, eMazzanti is Microsoft's 2012 Partner of the Year and 2013 Northeast Region Partner of the Year, a 5X WatchGuard Partner of the Year and has made the Inc. 5000 list five years running. Contact: Carl Mazzanti 201-360-4400 or emazzanti.net Twitter: @emazzanti Facebook: Facebook.com/emazzantitechnologies.
Download the free article: How to Select an IT Provider here.