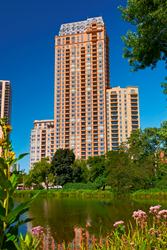 Denver, Pa. (PRWEB) October 06, 2014
The Precast/Prestressed Concrete Institute (PCI) recognized Denver, Pa.-based High Concrete Group LLC in its 52nd Annual PCI Design Awards. The precast company produced the architectural precast concrete walls that claimed the top prize in the Multi-Family and Custom Solution categories, and an Honorable Mention in the Retail Structures category.
A widely regarded industry program, the PCI Design Awards (http://www.pci.org) honors design excellence and construction quality in buildings and transportation structures built with precast concrete. This year, a panel of four independent judges representing the construction industry honored 27 buildings out of more than 100 qualified entries from throughout North America.
Best Multi-Family Structure—2550 North Lakeview Drive in Chicago, Ill.:
The 1.12 million-square-foot Lincoln Park 2550 residential towers boast 306 condominiums and 12 townhomes in a Lake Michigan neighborhood in Chicago. A central 29-story tower is flanked by 22-level north tower and a 16-story south tower, all clad in architectural precast concrete with limestone as well as a medium sandblast finish.
The architect was Lucien Lagrange and Associates; the structural engineer was CS Associates, Inc.; the general contractor was Walsh Construction; and the developer was Ricker-Murphy Development, all of Chicago.
Best Custom Solution—OSU South Campus Chiller Plant in Columbus, Ohio:
The 95,750-square-foot Ohio State University South Chiller Plant is a "House for Energy" that features 53,938 square feet of architectural precast, including panels with a high-polish finish and "fins" of diachronic glass that cast colored light rays across the concrete surface. Off 200 panels, there were only 11 different panel types, bringing a significant reduction in precast cost.
The architect was Ross Barney Architects; the architect of record was Champlin Architecture; the structural engineer was Shelly metz Baumann Hawk; the general contractor was The Whiting-Turner Contracting Company; and the owner is The Ohio State University.
Honorable Mention, Retail Structures—New Brunswick Gateway Transit Village, New Brunswick, N.J.:
Gateway Transit Village consists of a 10-story precast parking garage with 697 parking spaces, topped by a 14-story steel-frame and hollowcore residential tower containing 150 apartments and 42 condos. The structure is wrapped by 120,000 square feet of offices and commercial spaces. "To place a 14-story building on top of a garage is daring structural engineering," says project architect David J. Stuart, project manager for the architect.
The architect was Meltzer Mandl Architects, PC; the engineer was Severud Associates; the general contractor was AJD Construction; and the owner is New Brunswick Development Corporation (Devco).
About High Concrete Group
Headquartered in Denver, Pa., and employing more than 500 people, High Concrete Group has provided precast components for more than 5,000 projects since 1957, and is found on Engineering News Record's list of the Top 600 Specialty Contractors. High Concrete Group operates precast concrete production facilities in Denver, Pa., and Springboro, Ohio. The company also operates High Concrete Accessories, a Denver, Pa.-based national precasting embedment supplier. Visit http://www.highconcrete.com or email concrete.answers(at)high(dot)net.