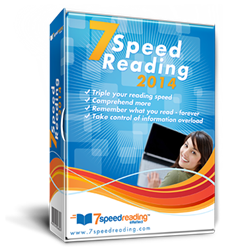 ...students and adults need to be knowledgeable about the best reading practices for digital content.
New York, City (PRWEB) October 07, 2014
Now more than ever, people are doing much of their reading digitally. Books, articles, tweets, blog posts, and almost everything is read on flat monitors instead of sheets of paper. eReflect notes that many studies are now focusing on how children's reading developmen t is affected by the medium they use to read. The company supports efforts to formally teach online reading skills in order to prevent any problems related to reading skills.
eReflect is the designer of one of the best speed reading software programs on the market. By its nature, the program uses online texts to teach reading skills. eReflect believes that even though children today are exposed to both digital and print reading, they should be given some form of formal instruction in both. Children need to learn what digital reading entails and what parameters need to be given due attention in order to achieve high levels of reading comprehension.
While online reading seems like a straightforward concept that doesn't require any training to achieve, the truth is that digital reading is very different from conventional reading, eReflect says.
Online reading is different due to its layout, its hyperlinked organic structure, and the many distractions that come with using an internet connection. Online reading is at once more selective and less focused. A digital reader will skim and scan through a blog post, or go straight to the bottom to get the take-away. A digital reader is often moving too quickly to process what they're reading, clicking one link after the other without pausing. This affects people's reading habits and overall reading strategies, and that's why students and adults need to be knowledgeable about the best reading practices for digital content.
As the developer of an online speed reading course, eReflect suggests that skills such as skimming and scanning, speed reading, and reading discipline must be taught as early as possible, since digital reading tends to be related to more distractions than print reading. If people learn to speed read, then they will become much more efficient online readers, able to consume new knowledge faster and better while ignoring these distractions, eReflect argues.
Online reading is important because of the potential for research and knowledge growth that is more easily done than with printed books. Students who are digital readers need to know how to efficiently research and find relevant content, which again is something they must be taught how to perform efficiently.
While online reading might make some people more prone to distractions and less eager to critically think over what they read, these habits can be reversed with proper, digital reading training, eReflect reassures parents and educators.
************
For more information about the benefits of using 7 Speed Reading, please visit the official website at http://www.7speedreading.com.
About 7 Speed Reading™
7 Speed Reading is the only modern speed reading software that uses the latest technology to produce superior results.
The software provides its users with a new way to master speed reading that guarantees three times the reading speed along with improved memory and comprehension.
The software is poised as the most comprehensive speed reading system anywhere. It contains seven learning strategies, fifteen software activities, video training, advanced tracking capabilities and many more exciting features.