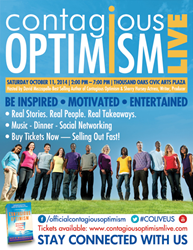 Once you read this book, it is sure to change your life as well. —John Popper, founding member of Blues Traveler
(PRWEB) October 07, 2014
Is the glass half empty or half full? Optimist and author of Contagious Optimism, David Mezzapelle is on a mission to show the world the glass is always half full, no matter what. In partnership with Smile TV and Grammy award-winning musician and songwriter Harold Payne, Mezzapelle has spearheaded the event series Contagious Optimism LIVE. Now in its second year, Contagious Optimism LIVE comes to the Thousand Oaks Civic Arts Plaza on Saturday, October 11, 2014.
Contagious Optimism LIVE is a suite of uplifting and motivational talks by real people from around the globe along with coauthors from the Contagious Optimism bestselling book series. These LIVE events also include powerful music and entertainment throughout the day. The purpose is to foster inspiration and to help people find their own silver linings - all bundled into a fun afternoon and evening.
About Contagious Optimism:
Write your own "silver linings playbook" with Contagious Optimism. Contagious Optimism includes stories, advice, actions and insights from business leaders, visionaries, professionals and just plain folks. David Mezzapelle believes that we all have the capacity to make optimism contagious just by sharing our life's adventures, and he's found a group of unstoppable optimists who have made their lives exactly what they want them to be. It is also available as an audiobook.
About Viva Editions:
Viva Editions are books that inform, enlighten, and entertain. The very name, "Viva!", is celebratory. And while Viva Editions is a line of books that are as fun as they are informational, the intention behind Viva is very serious—these are books that are truly helpful and intended to enhance people's lives.