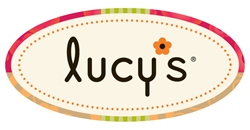 At Lucy's®, we make gluten-free products that taste great and are allergy friendly. The Lookie Cookie line provides toddlers with a hand-held snack that's delicious, fun and a useful tool for development
Norfolk, VA (PRWEB) October 07, 2014
Lucy's®, a dedicated bakery producing gluten-free and allergy friendly baked goods, is introducing a new line of toddler-oriented products this October. Lookie Cookie, which is focused on toddler development, features new cookies that are the perfect size for little hands to pick up, hold, show and eat all by themselves. The new line will provide young children with great tasting snacks while enhancing fine motor skills, building shape recognition and aiding in speech development and socialization. Along with their just-right size, the round shape of these cookies is particularly appealing to young children who are interested in feeding themselves and presenting the cookies to others.
Like all Lucy's® products, Lookie Cookies are gluten-free, certified vegan, and made without wheat, dairy milk, butter, eggs, casein, peanuts, or other tree nuts. Available in two child-friendly flavors, Old-Fashioned Oatmeal and Lemony Sunshine, the new cookies will satisfy any toddler's snacking appetite while supplying healthy nutrients that parents can feel good about giving their loved ones. Lucy's® ingredients offer a better-for-you option when compared with typical toddler snacks with its richly nutritious bean and grain flours, high-quality healthy oils and many organic ingredients.
Lookie Cookie was created to be a part of toddlers' lives while they are acquiring the essential skills that make them a little more independent. From about ten to twenty-four months, Lookie Cookies can be a part of the following important abilities children learn during this time:

Point or gesture at an object the toddler wants
Pick up and hold objects with thumb and forefinger
Say three or more words
Show awareness of parental approval
"At Lucy's®, we make gluten-free products that taste great and are allergy friendly. The Lookie Cookie line provides toddlers with a hand-held snack that's delicious, fun and a useful tool for development," said Dr. Lucy Gibney, Founder and Chairman of Lucy's®. "As a Mom and a doctor, I want to see kids getting the most from every minute of the day – including snack time. Lookie Cookies' nutritious ingredients and great taste are a terrific option for kids and parents."
Lucy's® Lookie Cookie products come in a 3.5 ounce box, each holding five two-packs of cookies. Available in select Target stores nationwide starting early-October, Lookie Cookie will sell for a suggested retail price of $3.99 to $4.99 and can be found in the natural baby product section of the store. For more information on Lucy's®, please visit http://www.drlucys.com.
###
About Lucy's®
Lucy's® creates delicious, high-quality, and convenient snacks and desserts for people with and without special dietary considerations. On the market in the U.S. since December 2007, Lucy's® offers a variety of year-round and seasonal flavors of gluten-free, allergy friendly cookies – Ginger Snap, Chocolate, Chocolate Chip, Cinnamon Thin, Maple Bliss, Sugar, Oatmeal, Pumpkin and Chocolate Mint – packaged in 5.5 ounce boxes. Select flavors are also available in convenient snack sizes. All cookies are baked without wheat, gluten, dairy milk, butter, eggs, casein, peanuts, or tree nuts. Lucy's® incorporates a three component allergen control program that includes selectively sourcing raw materials, testing for trace allergens in an on-site lab, and baking in a dedicated facility. Lucy's® products are available at over 7,000 stores in North America including Whole Foods Market, Sprout's, Publix, Kroger, Safeway, Wegman's, and many more. Also, now in the U.K. at Whole Foods, Planet Organic, Booth's, and more. Newly launching in Mexico with a growing number of retailers. For more information on Lucy's®, please visit: http://www.drlucys.com.