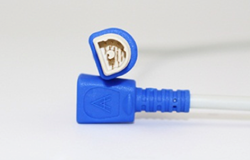 Our goal was to optimize a connector design around the needs of our medical customers.– Ryan Fisher, General Manager for Amphenol Alden
Brockton, MA (PRWEB) October 14, 2014
Using medical cables has just been made easier with the introduction of pulseOne push-pull medical cable assemblies from Amphenol Alden. pulseOne is the easiest medical cable assembly to mate and seal in the industry. Simply push it together to mate and seal the connector, and to disengage, just pull it apart. Unlike other commonly used medical connectors, there are no industrial style latches to actuate, no tedious threads to turn and the intuitive "D" shape takes all of the guess work out of aligning the connector. Doctors, nurses and patients alike will appreciate the simplicity and ease of use of pulseOne.
Keeping the design simple allows pulseOne to meet the ever increasing price pressures medical OEM design engineers and sourcing specialists encounter. For example, many medical procedures utilize a disposable cable assembly and the pulseOne's "limited use" option is ideally suited for these applications. pulseOne's simple over-molded plug provides an ergonomic, aesthetically pleasing and low-cost cable assembly, while its panel-mount receptacle sits nearly flush with the exterior surface to create an elegant, low-profile interface to the medical device.
Design flexibility is another benefit provided by pulseOne. This product family can be tailored to suit OEM-specific requirements for cable, color and configuration competitively at any volume. The integrated PCB plug option allows for greater control by the OEM over how their product is used through the integration of EEPROM's and product ID features.
Ryan Fisher, General Manager for Amphenol Alden states that pulseOne is the first true push-pull integrated connector and cable assembly designed for medical applications. "The team here at Amphenol Alden spent nearly a year working with major medical device manufacturers to assess what was important to their customers in a connector interface. Push-pull connectors currently in the market were originally designed for more industrial, less consumer-friendly applications. Our goal was to optimize a connector design around the needs of our medical customers, produce it in high volume, and achieve a competitive price point. I think the industry will see that we have definitively accomplished that."
For more information about pulseOne, to download a datasheet, or request a free sample,
please visit Amphenol Alden at: http://www.amphenolalden.com/pulseone or call Gordon Udall at (508) 427-7050 to discuss your application specifics in detail.
ABOUT AMPHENOL ALDEN
Amphenol Alden Products is a division of Amphenol Corporation, one of the largest manufacturers of interconnect product in the world. Their manufacturing facilities are in Brockton MA, Hermosillo Mexico, and Shenzhen China and they are ISO 13485:2003 and ISO 9001:2003 certified. Amphenol Alden's technical expertise, collaborative engineering approach, and the power of Amphenol's global manufacturing combine to make Amphenol Alden an industry leader in providing medical interconnect devices.