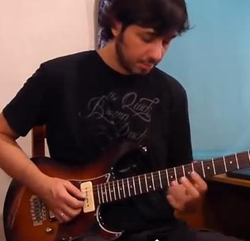 (PRWEB) October 07, 2014
Gaby starts off this easy guitar lesson right where he left off on part one with an open E major chord; open 6th string, 2nd fret of the 5th string with 2nd finger, 2nd fret of the 4th string with 3rd finger, first fret of the 3rd string with first finger and open first and second strings. Next Gaby moves to a double stop riff as follows; 9th fret of the 6th and 5th strings with first finger and then a hammer-on to the 10th fret of both strings with 2nd finger and then repeat the riff a second time and then move down one whole step and play the same riff except from the 7th to the 9th frets and then slide down and play the open E major chord again to finish off the whole riff. Guitar TAB's are available for this easy guitar lesson at GuitarControl.com.
The Pentatonic Scale is a musical scale with five notes per octave. They can be found all over the world and are the main scale used in the Blues genre.
Double Stops is the technique of playing two strings at the same time, usually done using the hybrid picking technique.
James Marshall "Jimi" Hendrix was an American rock guitarist from Seattle Washington. Hendrix is regarded as one of the most influential guitarists of the 20th century even though his career only lasted four years. Over the span of his short career he released four studio albums and one live album and was awarded 7 Lifetime Grammy Awards. Hendrix passed away on September 18th 1970.
Gaby Soule
Gaby Soule is a guitarist, composer and singer originally from Argentina but has lived and worked in Spain as a musician and guitar instructor for many years. He has released several albums with his own projects and with other artists. He's been a member of many bands in Argentina and Spain. Gaby has worked with other groups touring Europe and South America, and played with bassist Rudy Sarzo (Whitesnake, Ozzy Osbourne, and Dio), Walter Giardino (Rata Blanca), La Renga and other artists like Andres Calamaro. He combines his activity as a guitar instructor in Madrid, Spain, as well as being an online guitar teacher. Gaby is currently writing new material for his upcoming project.
About GuitarControl.com
GuitarControl.com is the leader in modern guitar instruction. It's packed with recourses including articles, video lessons, and the best videos in the business for the beginner to the advanced guitar student taught by the best instructors out there. Weather you are into the blues, rock, jazz, metal, folk, or anything in between, they have you covered.