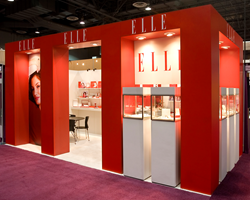 Las Vegas, Nevada (PRWEB) October 07, 2014
Xibit Solutions has once again won an award for their work creating the top trade show booths in the business. Winning the coveted "Best Booth Design" award for their work with Card Cash at the 2014 Pawn Expo, Xibit Solutions helped bring notoriety and attention to the brand with a stunning and perfectly crafted booth.
Representing the biggest players in the pawn industry, the 2014 Pawn Expo took place at the Mirage Resort and Casino and featured some extraordinary trade show booths. With many viable choices for "Best Booth Design," show organizers couldn't deny Xibit Solution's magnificent display for Card Cash.
Spectators were quick to call Card Cash's booth at the Pawn Expo "the nicest and biggest booth" at the show. With such a gorgeous display, the National Pawn Brokers Association (NPA) awarded Card Cash with the "Best Booth Design" award, one of the Pawn Expo's biggest honors.
This is far from the first time Xibit Solutions has won an award for their innovative and unique trade show booths. At the WWD MAGIC Show, Xibit Solutions was awarded for their work on Elle Jewelry's sleek, red and white trade show display.
The 10 by 20 ft. booth was given the "Best of Show" award, one of the top honors presented by the biggest women's apparel expo on the planet. Thanks to Xibit Solutions, Elle Jewelry was able to stand out from the crowd and make a splash at WWD MAGIC.
With over 20 years of experience providing companies with the top trade show rentals in Las Vegas, Xibit Solutions continues to raise the bar in design and fabrication services. Offering customers trade show logistics, installation and dismantling services and the top graphics and designs available on the market, Xibit Solutions leads the trade show industry in exciting and innovative exhibit displays.
For more information about upcoming trade shows, display booth building or stand fabrication, contact Xibit Solutions today. Visit http://www.xibitsolutions.com or call (702) 361-7502 today to find out how Xibit Solutions can provide you with exhibit booth rentals and help your company make the most of it's marketing efforts at an upcoming trade show.