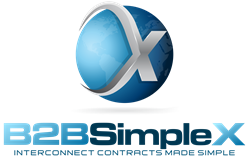 Aachen, Germany (PRWEB) October 08, 2014
B2BSimpleX, the exchange platform developed by Ascom to automate carrier interconnect processes, announced today that it is the first OSS/BSS solutions provider to fully support origin-based price differentiation and surcharges. The innovative middleware solution will be formally rolled-out as a service during the Capacity Europe 2014 conference (3-5 November 2014, Amsterdam).
The solution addresses a pressing need by the international wholesale carrier community for a mechanism that allows them to better identify and match traffic destinations to appropriate rates and surcharges. It enables carries to define origin countries and when origin-based charges apply, providing greater clarity, transparency and revenue assurance.
In addition, the solution provides carriers enhanced capabilities to calculate the impact of surcharges and monitor and control traffic patterns for greater pricing flexibility in real-time. The solution, which sits between a carrier's existing Mediation system and the downstream OSS/BSS as a self-contained box, is a low- cost solution that is a fast add-on because it doesn't require any systems changes.
The middleware fits any BSS and enables carriers to use their existing CDR Rating engine to resolve origin-based destinations by simply modifying the CDRs. Origin-based destinations can be configured with only one dial code, just like ordinary destinations. The solution can be quickly deployed on standard hardware and is entirely compatible with any systems configuration. Origin-based differentiations are also included across all B2BSimpleX applications, including the GBET eContract template.
"The solution significantly improves a carrier's ability to match pricing to destinations and reduce the time and expense involved in a process rife with uncertainties, misinterpretations and incorrect pricing associated with footnotes and remarks in billing and reconciliation statements," said Michael Wallrath, Managing Director, Ascom Systems & Solutions.
B2BSimpleX Innovation Achieves Capacity Award 'Shortlist'
B2BSimpleX is one of five products nominated for Best Service Innovation for 2014 by Capacity. B2BSimpleX provides carriers with flexible billing and pricing solutions to better manage all agreement types, such as volume discounts, penalties, volume commitments, swap deals, volume or amount commitments for transit fees, termination fee splits and now, origin-based pricing.
Ascom developed the B2BSimpleX platform to eliminate the costly and time-consuming manual processes that carriers have long relied upon to negotiate and implement interconnect agreements. B2BSimpleX replaces the manual processes, which are often fraught with data errors and other data ambiguities, with an automated solution that greatly simplifies the process with standardization to facilitate contract exchange and implementation in real time. In addition, the platform comprises multiple service levels for carriers of all sizes and needs. Advanced user tools include the ability to conduct modeling, conduct 'what if' scenarios, analyze contract performance and measure profitability.
ABOUT ASCOM
Ascom is a global leader of mission critical communications solutions, with subsidiaries in 17 countries and a workforce of more than 1,600 employees. Ascom's Business Unit Systems & Solutions provides innovative software and solutions for business and operations support. The service offering include consulting, planning, implementation, service support, as well as the complete operation of large-scale IT solutions.