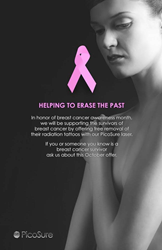 We are honored to be able to reach out to the breast cancer community and help women to get rid of an unwanted tattoo that may serve as a reminder of a painful time.
Baltimore, MD (PRWEB) October 07, 2014
October is National Breast Cancer Awareness Month and a recent news article in Beauty World News describes how physicians around the country are doing their part to support breast cancer survivors. In honor of all those who have been affected by breast cancer, Maryland Laser Skin and Vein is offering free radiation tattoo removal for breast cancer survivors using the revolutionary PicoSure device. Women with breast cancer often need radiation treatment, and in order to ensure accuracy, a small black or blue tattoo is placed on the skin. This tattoo can be a daily reminder of the trials a breast cancer survivor went through, and many women like to remove this tattoo as a final step towards healing.
"My heart goes out to all of the women who have struggled with breast cancer," said Dr. Margaret Weiss, a founding member of MDLSV. "We have decided to show our support this October by participating in a PicoSure campaign to offer free radiation tattoo removal. We hope that the removal of these tattoos will help women to find closure."
Tattoo removal can be difficult and expensive. However, with this campaign, MDLSV are offering the chance for tattoo removal using one of the most advanced devices available. PicoSure is a picosecond laser which uses patented PressureWave technology to break up tattoo ink into tiny particles that can be easily eliminated by the body. PicoSure delivers the best results in the fewest amount of treatments, and is even able to eliminate difficult ink colors.
"PicoSure is the best laser available to get rid of tattoos," explained Dr. Robert Weiss, director of MDLSV. "It can even treat tattoos that have been previously worked on. With PicoSure, we hope to eliminate all traces of radiation tattoos from women who have conquered breast cancer and are looking to move on completely."
PicoSure works by delivering ultra-short pulses of energy into tattoo ink, which shatters under the force of the energy without damaging the surrounding skin. The ink is then naturally eliminated by the body. It is a breakthrough in tattoo removal technology, and can be used on tattoos ranging from simple marks to elaborate, colorful designs. Tattoos no longer have to be permanent with PicoSure technology, and the expert dermatologists at MDLSV have the expertise and experience to use the PicoSure laser, as well as many other types of lasers, safely and effectively.
"Many people get tattoos that later they realize they no longer want," said Dr. Karen Beasley of MDLSV. "In the case of breast cancer survivors, they never wanted a radiation tattoo in the first place. We are honored to be able to reach out to the breast cancer community in this way, and help women to get rid of an unwanted tattoo that may serve as a reminder of a painful time."
Founded in 1984 by Drs. Robert and Margaret Weiss, Maryland Laser Skin and Vein Institute is the greater Baltimore area's leading medical and aesthetic dermatology practice. In 2000, dermatologist Karen Beasley, MD joined the practice. With over 45 different types of laser and light based therapies, as well as numerous injectable treatments, the board certified dermatologists at Maryland Laser Skin and Vein Institute are experts in treating a wide range of skin conditions, including acne, rosacea, aging skin and non-invasive fat removal.
For additional information about Maryland Laser Skin and Vein Institute, please visit mdlsv.com or call 410-666-3960.