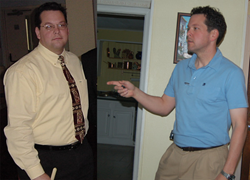 Although IBS is a chronic condition, many are able to control it's symptoms through gluten-free diet plans and stress management.
San Francisco, CA (PRWEB) October 08, 2014
Irritable bowel syndrome, IBS, is a common bowel disorder that affects approximately 55 million Americans every day. IBS Symptoms can include abdominal cramping and pain, bloating, gas, diarrhea and constipation. Although IBS is a chronic condition that will require long term management, many can control their symptoms by managing diet, lifestyle and stress.
One of the most common causes of an IBS flare-up is thought to be gluten, a protein found in almost all processed foods. Diet Doc has helped thousands control IBS symptoms through their gluten free diet and nutrition plans. The company's team of doctors, nurses and certified nutritionists are specially educated in the science of weight loss and know how the body reacts to specific foods. Working as a team, gluten free diet plans are designed that are compatible with each patient's personal nutritional needs, medical conditions and weight loss goals.
New patients will complete a health questionnaire and schedule an initial online consultation with a Diet Doc physician. During the consult, the doctor will assess the entire system to uncover and address improperly functioning organs, cellular toxicity or hormonal imbalances that may be exacerbating IBS symptoms or other conditions that contribute to weight gain. Patients will receive a full report, including doctor recommendations for the best weight loss method and learn how to control their IBS symptoms through nutrition.
Following a gluten free diet, especially for those who are trying to lose weight, can become confusing and challenging, causing many to abandon their dreams of ever shedding excess fat. Fortunately, Diet Doc's gluten free diet plans include prescription hormone treatments and exclusive diet pills that help patients overcome the initial weight loss hurdles by eliminating nagging hunger, cravings and loss of energy. The prescription hormone diet treatments and diet pills work perfectly with the customized meal and snack plans by signaling the brain to target stores of old, trapped fat to be released, burned and quickly flushed from the system. Patients find themselves looking and feeling better within days of following the gluten free diet plans. In fact, a recent in-house survey, including 25,000 actual patients, revealed that the majority of Diet Doc patients lost up to 20 pounds during the first month. http://www.dietdoc.com/testimonials/in-house-survey
Because Diet Doc clients are able to realize fast weight loss without suffering side effects typically associated with following a gluten free diet, more and more dieters are choosing these programs to learn how to control IBS symptoms through diet and nutrition, while reaching their weight loss goals.
About the Company:
Diet Doc Weight Loss is the nation's leader in medical, weight loss offering a full line of prescription medication, doctor, nurse and nutritional coaching support. For over a decade, Diet Doc has produced a sophisticated, doctor designed weight loss program that addresses each individual specific health need to promote fast, safe and long term weight loss.
Diet Doc Contact Information:
Providing care across the USA
Headquarters:
San Diego, CA
(888) 934-4451
Info@DietDoc.info
http://www.dietdoc.com
Twitter: https://twitter.com/DietDocMedical
Facebook: DietDocMedicalWeightLoss