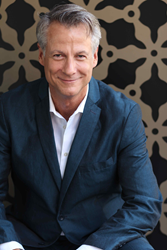 Los Angeles, CA (PRWEB) October 07, 2014
Leveraging a vast and varied career of passionately helping myriad artists in the fields of fine arts and entertainment to monetize their artistic enterprises, as well as his acute capacity for strategically accelerating business and brand growth, Los Angeles-based talent manager Michael Nicklin has announced the launch of his new venture, Vortexian Talent Management.
The newly launched boutique talent management company provides strategic career management and development services to television and film actors at varying stages of their careers. Nicklin brings decades of experience from both inside and outside the industry to the development of an actor's brand, business, and well-being.
Having resided in the epicenter of the entertainment industry for most of his career, Nicklin is certainly no stranger to the business of entertainment or in rapidly bolstering the ascent of a brand's growth, whether of an artist or a multinational corporation.
It was while he was first attending San Jose State University's College of Business that he parlayed his career as a professional model and actor into an entrepreneurial venture by investing in the talent agency that had represented him, and became a SAG-AFTRA franchised agent and Managing Partner.
Following 10 years of commandeering his agency through several stages of unprecedented growth, representing a roster of 150 actors and models for film, television, industrials, print and live performance, he launched another successful talent agency in Beverly Hills. Nicklin was next offered the position of recurring contributor on a newly-launched syndicated nationwide morning talk show, "George & Alana." Shortly after, he became a well-recognized on-air personality and consumer trends contributor appearing on news programs and both network and syndicated morning shows for over a decade.
Throughout the prosperous 90s dot-com boom, he served as a contract strategist for a major multinational corporate incubator, leading into another successful entrepreneurial venture as the founder of a boutique consulting firm with a mission of bridging the gap between organizational performance and the untapped potential for clients in the retail, shopping center and hospitality industries. There he provided strategic consulting services to more than 300 business owners and corporations, including Universal Studios, Marriott, Four Seasons, Westfield and Macy's. As a keynote speaker and educator he delivered more than 500 presentations globally.
Recognizing his innate desire to help support artists' careers had been reignited, Nicklin reentered the world of acting in 2009 with the objective of reacquainting himself with the industry and to observe how the business processes of acting had evolved over the past decade. He particularly aspired to examine the impact of digital media and the advent of online casting tools. As an actor, he began developing valuable relationships with filmmakers, casting directors and fellow actors.
In just three short years, he created a career trajectory for himself that yielded roles in more than 20 shorts and feature films, concluding in 2012 with the lead role in an independent feature. Concurrently, in 2011, after being asked by a number of actors to manage business aspects of their careers and personal brands, he began independently working as a talent manager in order to leverage his intuitive entrepreneurial compass to help other talent discover their own spotlights.
After encountering a consistently growing demand for his dedicated talent management services, he decided to form the new company and wrap the brand around what he had been doing independently to create a business infrastructure that will allow for him to more comprehensively serve a growing roster of higher profile clients.
Says Nicklin, "A beginning actor is a small business. An experienced working actor is both a business and a growing brand. A celebrity actor is often a corporation and a global brand. Each of these phases of business growth requires strategic management. That is fundamentally what being a talent manager means to me. My desire is to serve a talent's management needs through all the stages of his or her career."
He adds, "My goal as a manager is to guide the talent to build a solid business foundation, business plan, and optimal growth trajectory for his or her career, all while navigating both the challenges and opportunities the industry presents along the road to success."
For more information, visit Vortexian Talent Management's official website at http://www.VortexianTalent.com or call (310) 737-7553. You can follow the company on Twitter at @VortexianTalent and on Facebook at http://www.facebook.com/VortexianManagement.