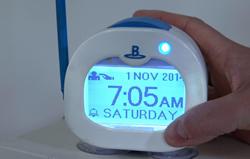 It is fun, user friendly and very reliable
Adelaide, South Australia (PRWEB) October 08, 2014
rClock is a robot alarm clock that can silently wake the user up without disturbing others around. It does this by gently tapping the user with a motorized arm; the experience is very similar to that of being woken up by someone else.
rClock is ideal for:
•People who need an alarm to instantly wake them up
•Couples who have different alarm schedules
•People who live in a shared room or share house
•People who suffer from hearing loss
By keeping rClock as simple as possible, Bitzong's team has achieved affordability while greatly improving its reliability and user friendliness. Perhaps most importantly after 4 years of research, development and testing, Bitzong has completed a fully functional prototype of rClock which is ready for production. The device has proven to be very effective through a long period of everyday testing.
In addition Bitzong has now established the partnership required for rClock to reach production, but in order to gain enough financial support for carrying out the initial manufacturing setup, they have started a crowd funding campaign on Kickstarter. For more information and video of rClock, visit the Kickstarter webpage: https://www.kickstarter.com/projects/2027853280/rclock-an-affordable-useful-robot-alarm-clock?ref=nav_search
Facebook page: https://www.facebook.com/bitzong
Youtube: https://www.youtube.com/channel/UCPuht5nKeWCXojkHMKjrRIA
Official Website: http://www.bitzong.com
Bitzong was created by Founder Benny Tong and his two university colleague. All three are currently undergoing their final year of their engineering degrees.