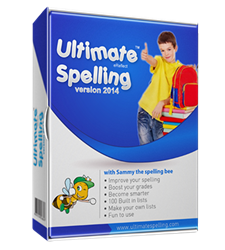 Academic competition helps people learn to control and discipline themselves in order to perform well under pressure.
New York City, NY (PRWEB) October 13, 2014
eReflect and Ultimate Spelling™ support academic competition, in accordance with Linda McFadyen's article in azcentral.com published on September 5, 2014, when it is used with respect for the individuals involved. When presented in the right way, such competition can promote learning and give students the necessary motivation for succeeding in every aspect of their lives.
As a performance-enhancing concept, competition in class can advance the entire class' academic competence, if the competition emphasizes fair play, integrity, and respect towards other classmates. Academic competition can take place anywhere: in halls, conference rooms, and venues that host spelling bees, in impromptu math competitions and in all sorts of other contests that seek to exhibit the talents and competencies of young people. Academic competition thus serves as the springboard for academic excellence, since it boosts children's performance and motivates them to try harder so as to keep up with their classmates.
eReflect, designer of one of the best spelling software products designed for both home and school use, asserts that spelling bee competitions in particular have helped nurture a cultural conceptualization of spelling as a fun, intriguing, and competitive skill. The company points to the impact and reach of national and international spelling bee competitions like the Scripps National Spelling Bee to confirm how such initiatives boost students' academic performance and help raise public awareness of both literacy and fair competition.
Teaching spelling and other skills can be implemented through competitions at the class, school, community, or state level. This way, students are motivated to learn to spell so that they can exhibit their spelling mastery while competing with their classmates. Inevitably, this drives up healthy competition among students who learn to compete against one another while still maintaining progress towards a common goal. At the same time, children gain valuable experience on how to perform under stress, deal with time-sensitive deadlines, and learn to be comfortable in front of an audience, essential skills for any student.
Being able to perform well under pressure is a skill many adults find essential as well. Academic competition helps people learn to control and discipline themselves in order to perform well under pressure. eReflect believes that fair competition should be encouraged in educational contexts so that children can gain the life skills they need to succeed as adults.
***********
For more information about how Ultimate Spelling software can improve spelling performance for you and your family, please visit the official website at http://www.ultimatespelling.com.
About Ultimate Spelling™
Ultimate Spelling provides a modern and easy to use spelling software that has been designed with one goal in mind – making children want to learn.
It is a fast and easy way to master even the most complicated spelling, without the need to write long lists or complete boring tests.
In fact, Ultimate Spelling provides more than just spelling help. It is a complete educational resource that boosts all levels of a child's literacy.
Containing a personal computer tutor, Ultimate Spelling is the most realistic step-by-step guide to flawless spelling ability.