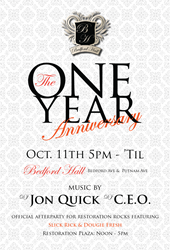 I would like to give one hundred thanks to the Bedford Stuyvesant community for their overwhelming support, affirming for us that it was the right place at the right time."
Brooklyn, NY (PRWEB) October 07, 2014
Bedford Hall, one of Brooklyn's newest lounges, will celebrate its one-year anniversary this weekend with an appreciation party for its patrons and supporters, Saturday, October 11. The thank you bash will feature two renowned deejays, Jon Quick, BLS & Red Rooster, and DJ CEO, FuseTV and Tap+Cork, along with drink specials and giveaways.
The free event will also serve as an official after-party for Restoration Rocks, the annual block party presented by Bed-Stuy Alive! and Restoration Plaza. The combined anniversary and after-party are produced by Tap+Cork (Arts+Crafts, Inc.) and Bedford Hall.
Bedford Hall is one of the few large venues in central Brooklyn and caters to a diverse professional crowd. Outfitted with inviting bookshelves, couches and a gaming area, the 300-person lounge and eatery draws patrons with such events as its weekly burlesque shows, jazz band Sundays and viewing parties, as well as special events.
"I would like to give one hundred thanks to the Bedford Stuyvesant community for their overwhelming support, affirming for us that it was the right place at the right time," said co-owner Calvin Clark, who is also co-owner of the popular Fort Greene bar Mo's and Langston's in Bedford-Stuyvesant. "I'm looking forward to many successful years to come."
Bedford Hall's One-Year Anniversary celebration takes place Saturday, October 11, from 5pm - 4am at 1777 Bedford Avenue, Brooklyn, NY. Admission is free. For more information, visit http://www.tapcorknyc.com/bedfordhall.