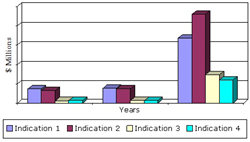 Global Next Gen Cancer Diagnostics Market to Reach $10.6 Billion in 2019
Wellesley, Mass. (PRWEB) October 07, 2014
BCC Research (http://www.bccresearch.com) reveals in its new report, NEXT GENERATION CANCER DIAGNOSTICS: TECHNOLOGIES AND GLOBAL MARKETS, the global market for next generation (next gen) cancer diagnostics is expected to grow to $10.6 billion by 2019, with a five-year compound annual growth rate (CAGR) of 42.6%. The blood-born cancers category, the fastest moving segment of the market, is moving at a tremendous 60.2% CAGR.
With incidence rates of many cancer types rising as the population of developed countries continues to grow older, there is an increasing demand for noninvasive diagnostics assays that can detect cancers earlier, molecularly subtype tumors to help guide therapy decisions, and monitor cancer recurrence in treated individuals. At the same time, there has been impressive progress in technologies associated with next gen diagnostics, including in biochips, real time polymerase chain reaction (RT-PCR), next gen sequencing (NGS), and next gen capture technologies. These innovative technology platforms provide more sensitive, accurate, and rapid diagnostics tools for oncologists to use in treating cancer patients.
The sex-related tumors (breast, cervical, ovarian, and prostate cancers) and solid tumors (excluding sex-related tumors) categories are expected to reach $3.3 billion and $4.6 billion, respectively, in 2019.
However, the blood-born cancers (leukemia, myeloma, and lymphoma) category, valued at just $117.4 million in 2013 is expected to escalate to nearly $1.4 billion by 2019. In particular, NGS platforms offer a significant improvement over current assays in sensitivity and cost of clonality assays and post-treatment monitoring of B- and T-cell malignancies.
Key forces driving the next gen cancer diagnostics industry include growth in incidence of many types of cancers worldwide, an explosion in the discovery and validation of clinically relevant genomic biomarkers since 2010; and a revolution in technology platforms for detecting and analyzing these biomarkers.
"There are outstanding unmet medical needs that are driving industry growth," said BCC Research biotechnology analyst John Bergin. "These include the need for earlier cancer detection, monitoring of patients during treatment, subtyping cancers so that appropriate personalized treatment plans can be implemented, and assessing a person's risk of developing cancer in the future."
NEXT GENERATION CANCER DIAGNOSTICS: TECHNOLOGIES AND GLOBAL MARKETS provides an overview of the global market for next gen cancer diagnostics and related technologies. It includes analyses of global market trends, with data from 2013, estimates for 2014, and projections of CAGRs through 2019.
Editors and reporters who wish to speak with the analyst should contact Steven Cumming at steven.cumming@bccresearch.com.
About BCC Research
BCC Research publishes market research reports that make organizations worldwide more profitable with intelligence that drives smart business decisions. These reports cover today's major industrial and technology sectors, including emerging markets. For more than 40 years we've helped customers identify new market opportunities with accurate and reliable data and insight, including market sizing, forecasting, industry overviews, and identification of significant trends and key competitors. We partner with analysts who are experts in specific areas of industry and technology, providing unbiased measurements and assessments of global markets. Our clients include the top companies in industries around the world as well as universities, business schools, start-ups, consulting firms and investment companies. BCC Research is a unit of Eli Research LLC. Visit our website at http://www.bccresearch.com. Contact us: (+1) 781-489-7301 (U.S. Eastern Time), or email information@bccresearch.com.
Data and analysis extracted from this press release must be accompanied by a statement identifying BCC Research LLC, 49-2 Walnut Park, Wellesley, MA 02481, Telephone: (+1) 781-489-7301; Email: editor@bccresearch.com as the source and publisher. Thank you.