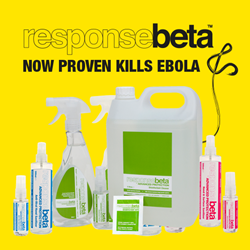 World's first alcohol free sanitizer proven effective against Ebola virus.
Liverpool (PRWEB UK) 7 October 2014
The confirmation from BluTest, internationally recognised experts in virus testing, places ResponseBeta™ amongst the world's first hand sanitizers and disinfectant cleaners to be declared effective against the deadly pathogen, currently responsible for a major health crisis in parts of Africa.
The news adds Ebola to ResponseBeta's™ already formidable killsheet which includes MRSA, Salmonella, C-Diff, HIV, Hepatitis B/C, H1N1 (Swine Flu), NDM1 and Norovirus to name a few.
Unlike alcohol based sanitizers, ResponseBeta™ is a broad spectrum biocide with multiple active ingredients, meaning not only does it kill harmful viruses, bacteria, fungi, yeasts and spores but also reduces the risk of resistance developing from any of the pathogens it kills.
The ADVANCED PROTECTION formula also offers an active residual effect for up to two hours. This means skin and surfaces treated with ResponseBeta™ will have protection long after the initial application when many other sanitizers quickly evaporate.
In spite of ResponseBeta™'s deadly impact on harmful pathogens it presents almost no danger to humans. The alcohol and chlorine free formula has been toxicologically and dermatologically tested. Furthermore because ResponseBeta™ contains no bleach or chlorine it remains un-reactive when mixed with other compounds such as urine.
As well as being SkinSafe™ all products are odorless and non-tainting, making them perfect for use everywhere from hospitals to commercial kitchens, public transport to schools – anywhere there may be a risk of infection.
ResponseBeta™ is available as a Hand Sanitizer, a Disinfectant Cleaner and a combined Hand & Surface Sanitizer and can be purchased direct from Kays Medical Ltd, as well as http://www.killnorovirus.com.
Further information can be found at http://www.responsebeta.com or visit us at Medica 2014, Dusseldorf, Germany on stand 10A10.
Company Information
For over 35 years we have been at the forefront in supplying British industries with first aid supplies, medical equipment and training.
Our experience provides us an enviable track record offering exceptional quality, value and the highest levels of customer service. This has all been achieved through constant evolution of our business within health and safety and related industries; adapting our product offering and services to match the needs of our customers.
More recently our growth has continued in a number of key areas such as product development, global export, exclusive distribution partnerships and investment in sales and marketing, giving us the largest nationwide sales force in our marketplace backed by an expert, UK based, telephone customer service team.