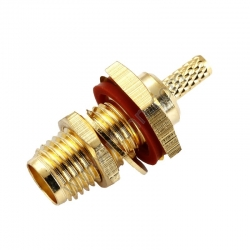 (PRWEB) October 07, 2014
LenoRF, the leading connector supplier, finds that a large proportion of its clients are quite satisfied with its items and services. Recently, the company has launched a TNC RF Connector promotion to benefit worldwide customers. According to a senior spokesman for the company, all the TNC RF Connectors are offered at discounted rates, up to 35% off. The special offer is valid until October 18, 2014.
As a matter of fact, the company has introduced a lot of advanced machinery and high technology from developed countries. The totally automated production process enables the company to create top quality products in a large number.
The senior spokesman said, "Now all new and old customers can access the big discounts. Customers from around the world can be rest assured, because all our connectors are of high quality; each of them has a distinct performance. At the moment, these wonderful items are very cheap, which is a great opportunity for those who want to buy high end connectors at affordable prices. We promise to offer the best products only."
The company is famous for high quality electrical accessories that are available at unmatched prices. Along with affordable TNC RF Connectors, LenoRF provides a huge selection of useful items, including coaxial cable connectors, semi rigid coaxial cables, RF cable connectors, SMA cable connectors, and so on. Many of them are warmly welcomed in the international market. Thus, it has now become a popular brand among worldwide consumers.
About LenoRF
LenoRF is an online supplier of high end electrical equipment. It is a China based company that aims to provide customers with high quality products at the lowest possible prices. Customers can try the company's products through sample orders with a long-term contract. Most customers come back soon after receiving their first deals.
More details about the company's useful products can be found at http://www.rfcnn.com/SMA-Female-For-PCB-Board-Edge-Soldering-RF-Connector-97.html.