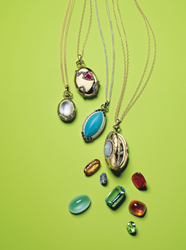 New York, NY (PRWEB) October 07, 2014
This is an extraordinary opportunity to create a personal family heirloom with fine jewelry designer and photographer, Monica Rich Kosann. The designer is known for her elegant and timeless storytelling pieces and creates each piece with the idea it will become part of the wearer's history. The three-day journey towards the creation of this heirloom begins in the German historic town of Idar Oberstein, home to some of the world's finest gemstone cutters. Meet Monica Rich Kosann at the workshop of Constantin Wild (whose family has been in the gem business since 1847) on a quest to find—and design—the perfect locket. The final design, and a hand painted rendering of the custom piece will be delivered to the owner's home soon after. In addition, the fantasy gift recipient may also visit Kosann in New York City, where she'll photograph them for the very portrait that will be kept inside the locket.
This gift is limited to one Neiman Marcus customer. With the purchase of the custom locket and trip, Neiman Marcus will donate $1,500 to The Heart of Neiman Marcus Foundation—dedicated to supporting youth arts education in communities across the country.
Visit NeimanMarcus.com/FantasyCustomLocket for more information or call 1-877-9NM-GIFT.
CUSTOM LOCKET AND TRIP WITH MONICA RICH KOSANN $100,000
About Monica Rich Kosann
Monica Rich Kosann is a fine jewelry, home, and accessory brand with a shop at Bergdorf Goodman in New York and a distribution that includes Neiman Marcus and over 100 fine jewelers and specialty stores. Monica designs with the belief that every woman has a story to tell. Her eponymous fine jewelry and home collections offer modern heirlooms that maintain a sense of fashion and timeless style. Monica is known for18-karat gold and sterling silver lockets, charm bracelets and other fine jewelry pieces as well as image cases and frames.
For more information on Monica Rich Kosann, please visit: http://www.monicarichkosann.com